The Wrong Side of History?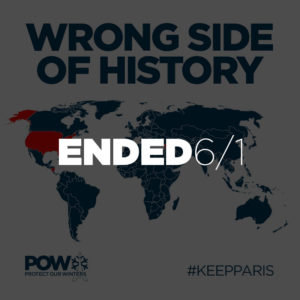 While no official announcement has been made, the press confirmed that Trump will pull the United States out of the Paris Agreement. We are not down with the weakening of climate action. If Trump bails on Paris, he fails the world. This administration will become responsible for the impacts of climate change from here on out. We can't afford to be on the wrong side of history. Join us in the fight to #KeepParis.
What can you do?
Share our images on your social channels. Tweet our video "Dear Mr. President" at @realdonaldtrump. Send a letter to Ivanka, quickly. Ask her to #KeepParis. Call the White House Comment Line at 202-456-1111. Make your voice heard.
Need a refresher? Study up on what's in the Paris Agreement, review five charts that explain the agreement, read Todd Stern's explanation for why Trump will regret bailing, and learn who might have the last word on the Trump's decision.
We know it's scary, but we're continuing to fight. Gloves are off.