Protecting our Playgrounds: Connor Ryan and Cody Townsend
Back
While they may not be shredding lines in the same physical space, Connor Ryan and Cody Townsend already found themselves on the same conference call this morning — it's a busy, rather unorthodox summer for the athletes. "I'm just trying to figure out what's going on with the world," said Townsend from his home in Tahoe, CA. Eastbound, Ryan visits a friend on a gorgeous day in Omaha, NB, as a cat named Bear romps about.
Even so, as the alpine air becomes more crisp day-by-day, both skiers yearn to earn turns as they pass the time through such an out of the box season. In this Q+A, learn more about Ryan's new film "Paha Sapa the Skier's Journey" and Townsend's "The FIFTY – Mt. Washington, NH," and hear from the athletes themselves on how their relationship with climate has changed over time.
A Climate Story
Q: How did you come to get involved with skiing and the outdoors? What's your story?
Connor: The mountains have always been a part of my life. My dad taught me how to ski when I was five years old up at Eldora. As a Lakota, it has always been a part of my perception to see the land in a longer context. It became real as I started going to sweat lodges regularly; that's what changed my perspective. Everything that we teach as sacred in the Lakota ways always has a hidden environmental truth — and that's what we see as sacred. Water is life — and that's not just a spiritual thing, it's a literal thing. It's all about taking care of nature so it takes care of you. 
Cody: I started skiing when I was two years old; I knew by the time I was six years old that the only thing I wanted to do in life was be a skier. 31 years later, and here I am. The outdoors, whether the ocean or the mountain, have defined my life. I think one of the beauties of skiing is that it's constantly an evolving sport and you're constantly learning. I still feel like I'm learning and exploring skiing and the mountains in a totally different way. 
Q: To that note, what is your "climate story?" When did you realize that your spaces of adventure are going to be impacted by climate change?
Connor: I realized one day that Arapahoe Avenue in Boulder lines up with the Arapaho glacier – the glacier that's closed to skiing, it's the source of our drinking water. A big part of it that clicked for me was that all of those peaks, when I was a kid, would stay snow packed way longer. So, it was harder to pick out which one was the glacier; they were smaller. My activism around climate change started when I was quite a bit younger — we were directly under threat living near the most fracked county in the nation, Erie. As a canvasser, I'd say 'this is in my yard, and it might be in your yard next.' 
Cody: I think it really comes from moments out in the mountains when you realize that there is a deeper connection to it than just the enjoyment of 'playing.' I realized that this sport, that has taught me everything, could cease to exist in the future because of climate change; most of my education has come from the mountains, and future generations may lose that connection to the Earth. I find that skiing is a gateway drug into realizing the power of nature, land, and the environment; if we lose that, we will further evolve away from caring for this planet. I think it's really important to have that awakening.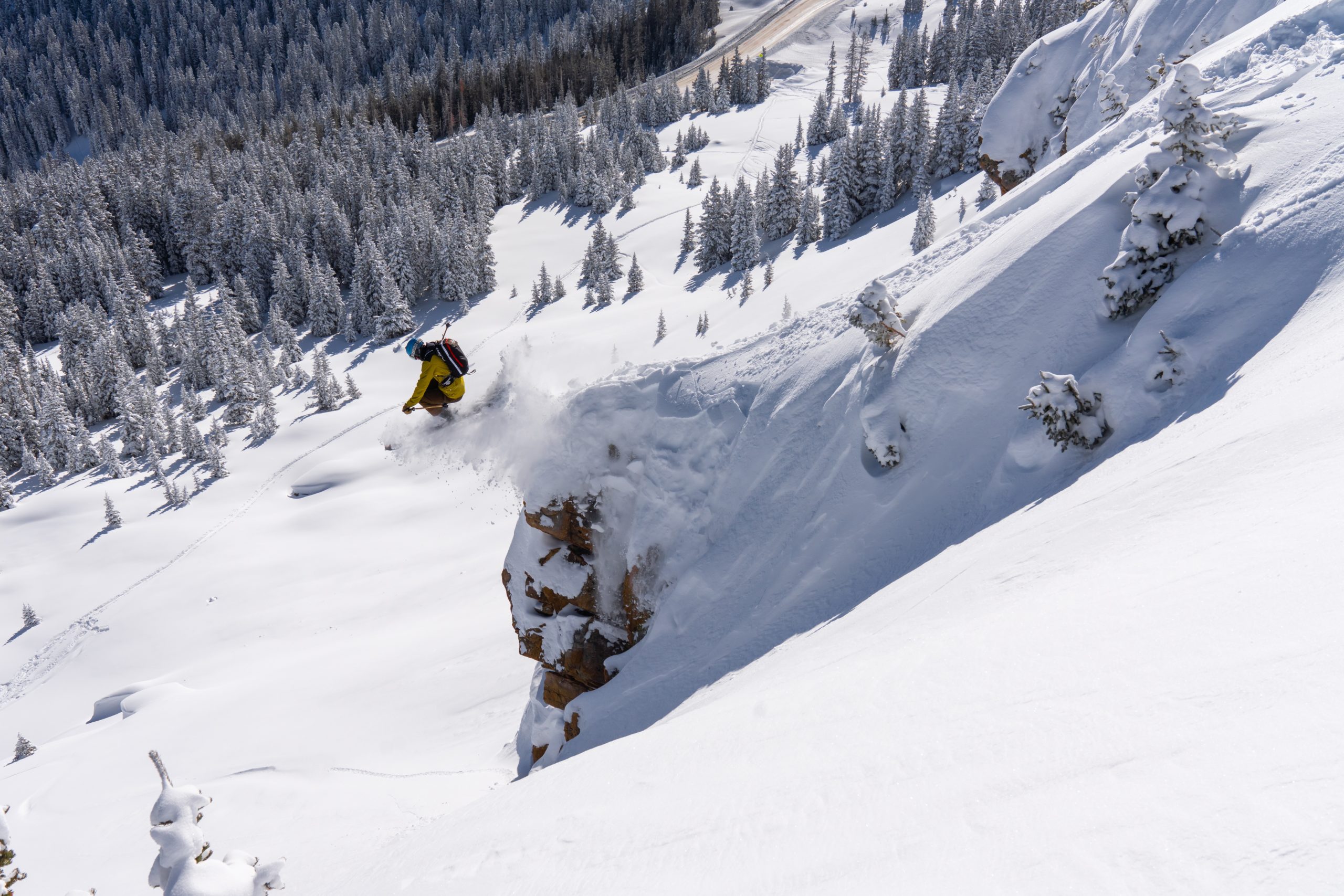 Paha Sapa the Skier's Journey
Q: What were your inspirations behind "Paha Sapa the Skier's Journey?"
Connor: The film is made by Mike Whelan, who is on a quest to ski all of the fifty states' highpoints. His lens for doing that, though, is centered around trying to tell the stories in a better way — so he brought me in on the project. He was like 'I need to ski in South Dakota, and this is your land, man, so point me in the direction of how we should do it.' It was really empowering to get to tell the story of skiing in this place through the lens of someone who is indigenous. 
Q: What surprised you throughout the project? Did you have any unexpected realizations?
Connor: I really didn't think the skiing would turn out to be as good as it was. That's the thing that opened my mind the most; you don't have to be in an iconic mountain range for skiing to find these pockets of incredible skiing. Letting the natural creativity that exists in the landscape speak to you as a skier, with the right openness and attitude, it really all came together. And it just happened to snow three feet while we were there. 
Q: In what ways do you see problems that Native Americans face intertwining with environmental issues? What can we do to make a positive change together?
Connor: Personally, my family is from the Standing Rock Reservation; we bear the brunt of that as Native communities. Natives have a history of exploitation by the federal government and oil and gas companies, and a lot of indigenous peoples are still dependent on their immediate environment to have their food needs met. The intersectionality between environmental justice and social justice isn't just intersectionality; it's the same issue. If you care about Black lives, if you care about Native lives, then you've gotta be fighting for these environmental issues.
The FIFTY – Mt. Washington, New Hampshire
Q: What inspired you to create the FIFTY series? Did you imagine that it would take you to the mountains of the East coast?
Cody: Skiing the big mountain in New Hampshire was actually a goal before starting the project; it's the birthplace of backcountry skiing in North America. The FIFTY was almost an excuse to check it off the list! The FIFTY has been the biggest project I've ever dove into; it's like my opus. 
Q: How did shredding in New Hampshire change your perspective on backcountry skiing? Any major takeaways?
Cody: For me, the biggest takeaway was seeing the culture of skiing that runs so deep. The passion that comes from mountains that are small is just as strong as mountains that are bigger out west; you realize that there's a connection to the sport that unites us all no matter the size of the mountain we're skiing on. The project has also opened my eyes to how fast climate change is happening; old, established lines, have changed a lot — and that's been in 20 years. 
Q: How can we take an intersectional approach to climate and social justice?
Cody: We need to open the doors to more people, and we need to share the stories of the people who have been in these spaces a lot longer than we have; their stories connect to what we're going through today. We need to address problems of inequality while dealing with climate change. Without equality, there is no climate justice. 
Q: Itching to roll the tapes and get psyched for ski season with Connor and Cody's films? Join POW on August 26 for a live screening of the films along with a live Q+A with the athletes themselves on their films and how they intertwine with climate justice. Joined by New Hampshire crusher Andrew Drummond, who has the local take on backcountry skiing, skimo racing, and trail running, the night should be one for the books. We hope you'll join the conversation!