POW Takes On DC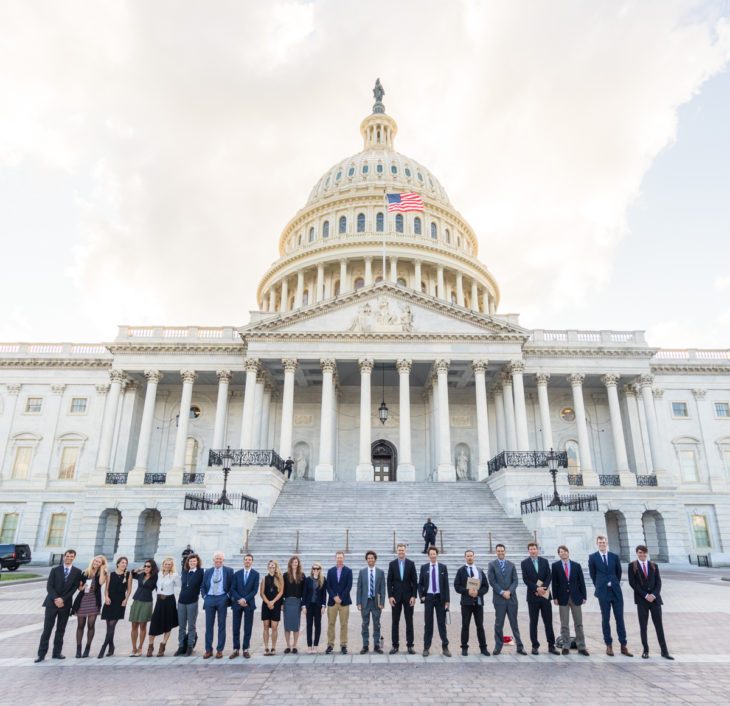 OUR GOAL? We wanted to meet with as many Republicans as possible to reach out to non-traditional allies to talk climate change and the impacts we see in the field, from snowpack reduction to struggling mountain economies. We were excited to meet with the Bipartisan Climate Solutions Caucus, a group of 56 House members working together to address climate change.
Overall, we were enthused to find open minds. Members of Congress listened to our athletes' and partner companies' stories and our request for action on climate. We were thrilled that the Bipartisan Climate Solutions Caucus welcomed us to the point of actually holding a specific hearing on climate change's impacts on tourism and outdoor recreation, inviting us to speak! This Caucus meeting was the highlight of our trip; talking with the climate champions in the House from both sides of the aisle was energizing.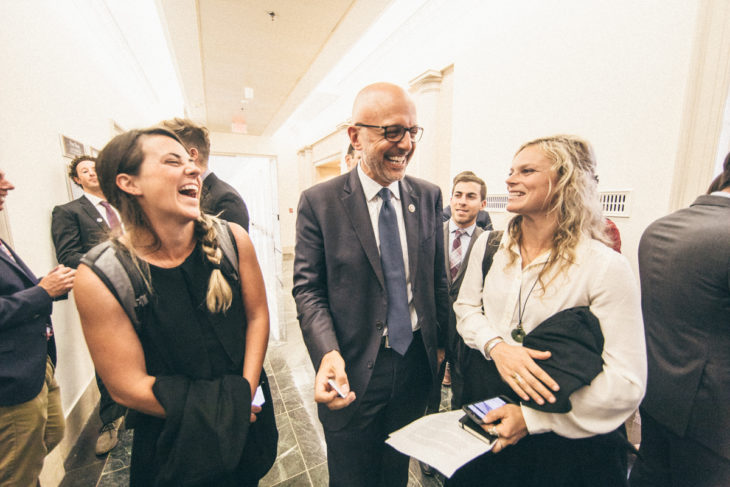 POW Board Chair Auden Schendler noted, "Sometimes I get a little discouraged on climate. But how could you not be optimistic traveling around DC, working hard on solutions, making good contact with people in power, with this group of young, enthusiastic, hopeful, and incredibly passionate people?"
At the Climate Solutions Caucus meeting, Olympic Snowboarder Gretchen Bleiler, Pro Fly Fisherman Hilary Hutcheson, and VP of Sustainability for Aspen Skiing Company (and POW Board Chair) Auden Schendler addressed the caucus. Bleiler talked about the changes in snowpack that she's witnessed first-hand, and how reduced snow cancels events that are huge economic drivers in mountain towns. Hutcheson commented on how the air quality from wildfire smoke in her home state of Montana is so dangerous right now that her guiding company's insurance adjustor has literally banned them from taking people on the river, costing her days of business. Schendler talked about what low snowfall years do to a ski resort and the local economy.
"It was a good reminder that we all have a voice," said Hutcheson. "We can– and should– speak to our local, state and federal leadership about issues that impact our livelihoods. Bitching and moaning amongst ourselves might be easier, but it doesn't get stuff done. The positive feedback we received in Washington encouraged us to be brave and to be clear with what climate action we want and how we suggest it happen."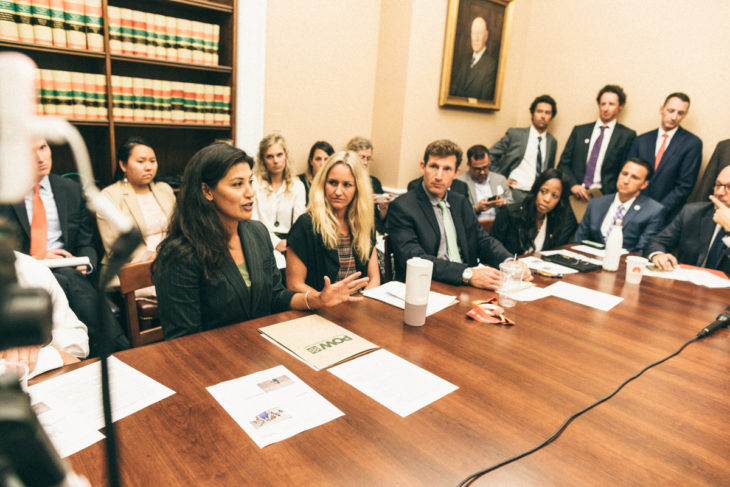 POW Founder Jeremy Jones commented, "It's true that my idea of a good day isn't putting on a suit and heading to Capitol Hill, but I was overly enthused by the momentum of this new Climate Solutions Caucus. It was incredible to see both parties stepping up and truly listening to people on the ground. Meeting with more than 10 Republicans was an incredible opportunity for POW, whether it was learning the arguments of a climate denier or getting an hour of a member's time because of their passion for the outdoors."
---
On the Hill, we met with the following offices: Jared Polis (D, CO-04), Tom McClintock (R, CA-04), Mia Love (R, UT-04), Elise Stefanik (R, NY-21), Scott Tipton (R, CO-03), Greg Walden (R, OR-02), Peter Welch (D, VT At Large), Steve Daines (R-MT), Cory Gardner (R-CO), Lisa Murkowski (R-AK), and Tom Udall (D-NM). In addition, in the Climate Solutions Caucus Meeting, we met with founders Carlos Curbelo (R, FL-26) and Ted Deutch (D, FL-22) and members Suzanne Bonamici (D, OR-01), Salud Carbajal (D, CA-24), Ryan Costello (R, PA-06), Charlie Crist (D, FL-13), David Joyce (R, OH-14), Derek Kilmer (D, WA-06), Al Lowenthal (D, CA-47), Rick Nolan (D, MN-08), and Jimmy Panetta (D, CA-20).
Athletes and companies shared their stories with members of Congress, and then we talked economic impact. "For Burton Snowboards, warming winters are a business bottom line issue. We were excited to head to Washington to meet with lawmakers to discuss how we can address climate change's impacts on the $887 billion-dollar outdoor recreation economy," said Donna Carpenter, CEO of Burton Snowboards. Then, we talked solutions: solar energy, electric transportation, carbon pricing and growing bipartisan forums to talk climate on the Hill. For more information on our policy goals, check out POW's policy agenda.
A big thanks to our athletes: founder of Protect Our Winters and Jones Snowboards, Jeremy Jones, Olympians Gretchen Bleiler, Alex Deibold, and Kaitlyn Farrington; skiers Julian Carr, Angel Collinson, Hadley Hammer, and Michelle Parker; snowboarders Josh Dirksen and Forrest Shearer; fly fisherman Hilary Hutcheson; climber Matt Segal; and Polar explorer Eric Larsen. And, thank you to our partners: Aspen Skiing Company, Burton, Fishpond, Orvis, the California Ski Industry Association, and to Clif Bar for fueling us with energy for a very long day. Lastly, thank you to Forest Woodward and Canyon Woodward for capturing such incredible photos of a successful trip, including all three included here!
Enjoy more photos from the day by visiting our Facebook album.