POW Joins Other Athletes and Pro Leagues at The White House
On August 8th, Protect Our Winters was invited to the White House to meet with other athletes, representatives from professional sports teams and leagues and senior Administration officials to discuss how sports can play an important in addressing climate change. Walking into the room we quickly noticed the star power: Stanley Cup winners Mike Richter and Andrew Ference, race car driver Leilani Münter and ex-football star Ovie Mughelli were just a sampling of athletes. The group also included corporate partners from Coca-Cola and iexecutives from MLB, NFL, NBA, NHL, and the USTA.
But we too, brought our own heavy hitters. Joining Our Executive Director, Chris Steinkamp, were Olympic silver medalist Gretchen Bleiler, pro fly fisherman Hilary Hutcheson and Bryan Cole, our partner from Clif Bar.
The meeting kicked off with a presentation from Dr. Ernest Moniz, US Secretary of Energy, who mentioned that "climate change is humanity's greatest environmental threat; it was incumbent upon the Obama administration to do something about it." The Secretary's remarks focused on the long list of game-changing initiatives taken by the Obama administration to enhance energy efficiency and reduce our nation's reliance on fossil fuels. These include for example, reducing the amount of energy consumed by appliances, increasing the efficiency of cars and trucks and the massive development of solar and wind power during the past eight years.
After that, the meeting was divided into three group discussions centered around climate change: mitigation, resilience, and education. The coolest thing was that the meeting was designed to be very collaborative, and we were being asked to participate and provide our input.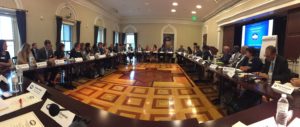 And that we did. It was great to hear from everyone up against the same challenge, but with a different perspective. And so interesting to hear everyone's ideas and comments, one of which came from our own Hilary Hutcheson. Talking about the climate impacts on Montana's fishing industry she said that fly fishing is prohibited after 2:00 p.m. because the water has become too warm, the fish have become too stressed and a catch and release scenario would increase fatalities. Everyone in the room seemed to clearly understand the first-hand experience that athletes have with climate change and why we are uniquely positioned to take on this challenge.
So as much as we hope the Administration gained from insights from the discussion, we benefitted too, taking away some incredibly valuable learning which will improve our individual approaches to addressing climate change. Additionally, we built new relationships during that half-day, ones that will lead to valuable collaborations in the near future.
After the discussion, the surprise of the day came when we were led outside to the White House basketball court, a full-on NBA ready court that is a once-in-a-lifetime experience. We tried unsuccessfully to dunk of course, so we'll leave that one up to Mr. Obama.
Our deepest thanks to the White House for the invitation to participate in this amazing discussion, giving us all the forum to discuss this issue that's so very close to us.  Thank you too to Gretchen, Bryan and Hilary for making time to be there with us.
The White House is inviting athletes, organizations, schools, and teams to submit ideas and commitments on ways to act on climate through sports.  For more information, please visit:  https://www.whitehouse.gov/blog/2016/07/11/tackling-climate-through-sports