POW Partners with Jack Johnson's 2017 Summer Tour
By POW volunteer, Janet Atkinson
On July 28th, Protect Our Winters helped kick off Jack Johnson's South Tahoe tour stop at the concert's Village Green. Through Johnson's Ohana Foundation, POW was hand selected as an All At Once non-profit partner, joining other Tahoe community groups to share about environmental initiatives. Truly interested in people and saving our planet, Johnson gives back to local groups at every stop on his concert tour. His foundation matches funds raised by non-profit partners, creating a generous "pay it forward" example.
The evening was warm and the sunset rocked, as the outdoor venue took in the laid back vibes of Jack Johnson and his music. The Protect Our Winters booth was first in the lineup on the Village Green, set up with an eye-catching Jones Splitboard as a raffle prize. Jack came over to check us out, pausing for a picture and inquiring about our mission. He loved POW's Make America Deep Again hats, and proudly wore one before the show!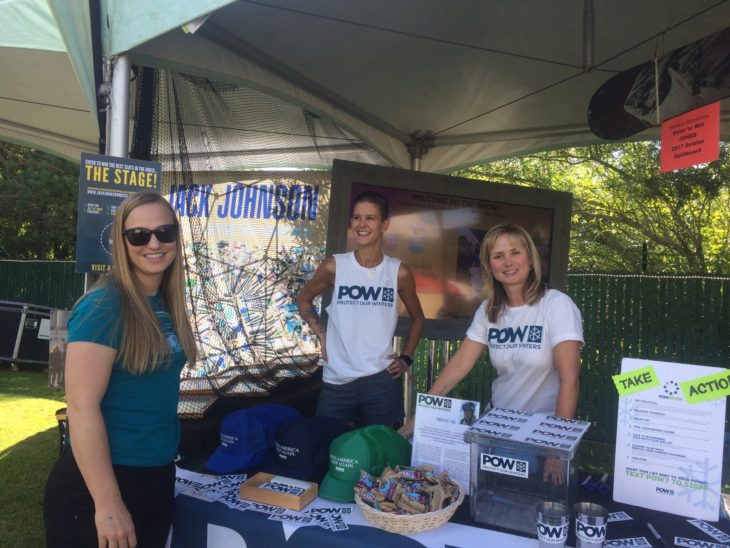 Jack is active in the environmental and sustainability movements. Fragments , Johnson's song from his 2017 film, Smog of the Sea, focuses on the destructive effects of plastic pollution on the world's oceans. Demonstrating a commitment to minimizing plastics, the Jack Johnson concert tour does not sell bottled water. Concert goers can earn reusable pint cups and stainless steel straws by visiting stations and non-profits at the Village Green.
After some outstanding opening acts, Johnson took to the stage with hit songs like Upside Down , Banana Pancakes, and Bubble Toes. The crowd went wild when Jack slipped in his new single, My Mind Is For Sale , from his upcoming album, All The Light Above It Too, set to be released on September 8.
Protect Our Winters is grateful to have been a part of this amazing summer experience! We were honored to represent the Lake Tahoe region, and focus concert goers on actions to fight against climate change and preserve snow in the Sierras and around the globe.
Lastly, thank you to the Johnson Ohana Foundation for matching $2,500 of POW member donations throughout Jack Johnson's 2017 Summer Tour and thank you to our members for helping us reach that goal!