The Paris Agreement For Dummies: Part 1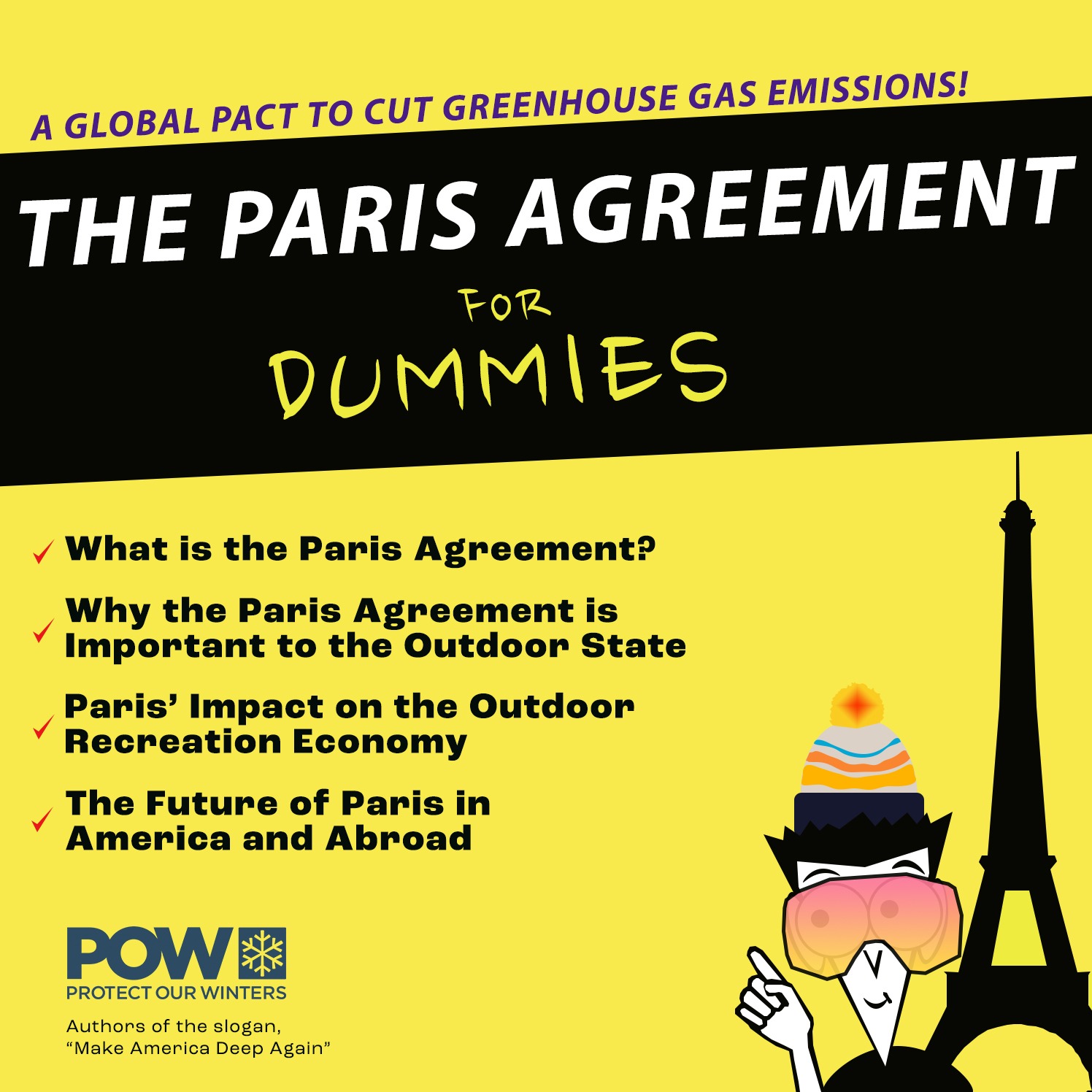 On December 12, 2020, the world celebrated the five-year anniversary of the signing of the landmark Paris Agreement. While the Trump Administration formally pulled the United States out of Paris, President-elect Joe Biden vowed to rejoin the global pact upon taking office in January 2021, and once again establish the country as a global leader on climate change. In the lead-up to Inauguration Day on January 20, POW is going to re-introduce you to the Paris Agreement, focusing on what it is, its impacts on the Outdoor State, its economic ramifications and what the future holds for the Agreement. We understand that the Paris Agreement is complex, wonky if you will, but we've broken it all down to help school you on its most important measures.
Welcome to Paris For Dummies.
The Paris Agreement, Remember That?
Anyone who's embarked on a backcountry hut trip knows that it takes a village to ensure a fun, safe and successful adventure. Each party member must lend a hand chopping wood, boiling water, cooking and more to make sure everyone stays warm, with full bellies and quenched thirst. Outside the hut, each person keeps an eye on the time, conditions and trajectory of the group in a system of checks and balances that keeps the team safe and aware. The team adapts its plan as conditions change.
The framework of a backcountry hut trip is a lot like the Paris Agreement. But what exactly is the Paris Agreement? It's a milestone global pact adopted in 2015 by nearly every country on Earth aimed at addressing the negative effects of climate change. 
The Paris Agreement coalesced over two weeks during the twenty-first-annual Conference of the Parties (COP) in Paris, France, and was adopted on December 12, 2015. The COP brought together 195 nations to solidify an accord that included emissions reduction commitments from all countries in order to limit the global temperature increase during this century to a maximum of 2 degrees Celsius above pre-industrial levels. All countries vowed to reduce emissions and strengthen those cuts over time, with the major emitters tasked with making the largest reductions. The arrangement included a blueprint for developed countries to lend a hand to developing countries in their mitigation efforts. Surrounding these pledges was a framework for transparent monitoring, reporting and adaptation of both individual and collective goals.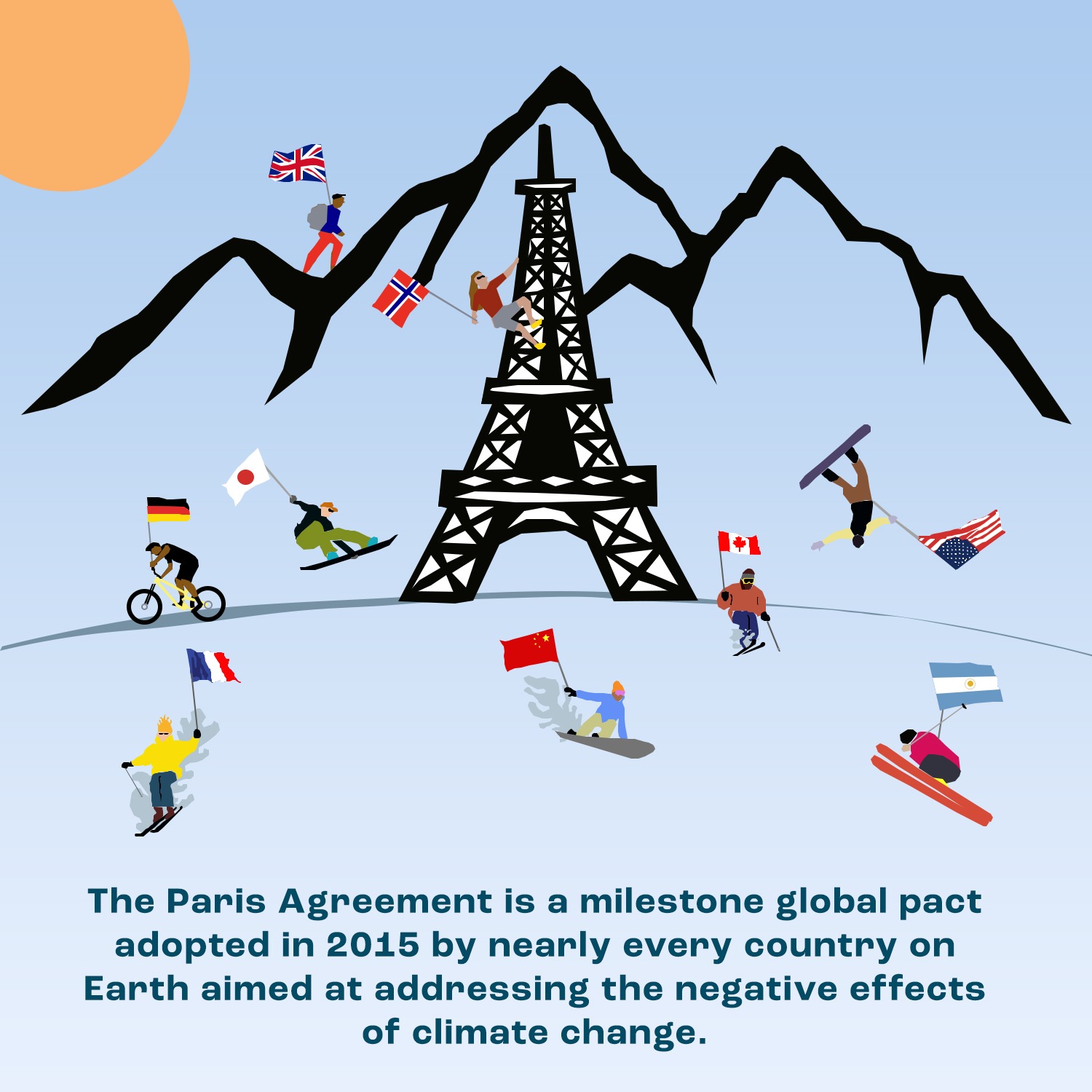 Much like a hut trip, the Paris Agreement is a collective effort, with each party member contributing where they can and according to their strengths. In both cases, stronger individuals support those who need assistance, and a transparent communication system with room for adaptation surrounds everything. Regarding Paris, each country determines its own goals, called "Nationally Determined Contributions (NDC)," instead of being dictated by the international community about what to do. This focus on peer accountability was key to the near-universal adoption of the Paris Agreement. See how these hut trip dynamics continue to parallel the pact? 
In addition to its parallels with outdoor adventure, the Paris Agreement is forever tied to recreating on and connecting with the planet's natural lands. Climate change substantially impacts our access to the outdoors. Inconsistent snowfall never buries the rocky sharks on our favorite ski runs. A longer, more dramatic and unpredictable fire season scorches our go-to trails and shuts down forest access. Warming temperatures have thinned ice and snow cover in the alpine, causing frequent rock-falls and landslides, making high altitude mountaineering more complicated and dangerous. Warming rivers reduce oxygen levels and cause frequent algae blooms, killing off fish, harming water ecosystems and treading on the lifestyles of passionate fly fishers. The climate crisis affects outdoor recreation in all aspects, and the main culprit of our cooking climate is human-caused carbon emissions, which the Paris Agreement seeks to significantly diminish. So if you're on board with skiing, snowboarding, hiking, mountain biking, fly fishing or climbing, then you're on board with Paris.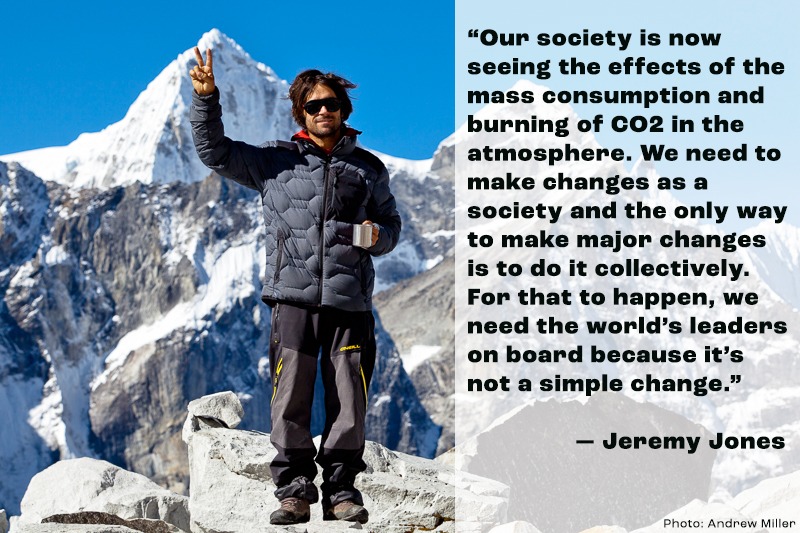 The Paris Agreement laid the groundwork for a carbon-neutral future, one where hikers can drive their affordable electric vehicles to the trailhead, where mountain bikers, runners and climbers enjoy their public lands without being surrounded by oil and gas infrastructure and where skiers can enjoy an après beer in a base lodge powered by 100 percent renewable energy. It made the conversation surrounding, and need to solve, climate change a societal norm, and required that policy decision-making should always take into account the impacts on climate. The emphasis on the continuous evolution of Paris ensures an associated education of humanity through life and school, with education leading to the cultural adoption of environmental stewardship. Paris made the preservation of our world the status quo.
The Paris Agreement provided a broad solution to a broad problem and stemmed from the failures of past global conferences that came up short in making progress toward curbing the effects of climate change. Whether it was the United Nations Framework Convention on Climate Change (UNFCCC) in Brazil, in 1992, the 1997 Kyoto Protocol in Japan or the 2009 Copenhagen Accord, signed in Denmark, the nations failed to provide a framework for a treaty with binding worldwide commitments to emissions reductions.  
Getting each and every country in the world to agree on a single topic is a near-impossible task. But, in Paris in 2015, after analyzing the learnings from past climate accords, the world came to a global commitment, a bottom-up solution. Each country on the planet needed to individually assess and set their own achievable goals, then come together to determine if the solutions, on aggregate, addressed the climate crisis quickly enough, capping global temperature rise during this century to a maximum of 2 degrees Celsius above pre-industrial levels. There needed to be progress in place of perfection. 
All countries responsible for the majority of global emissions pledge to substantial GHG cuts that would strengthen over time. The pact provided a blueprint for developed countries to lend a hand to developing countries in their mitigation efforts. Surrounding these commitments was a framework for transparent monitoring, reporting and adaptation of both individual and collective goals.
So, what are these commitments and their framework?

It's all about 2 degrees. The basis of the Agreement aims at limiting this century's global average temperature rise below 2 degrees Celsius, ideally to 1.5 degrees.

While the accord is voluntary, it urges countries to hit peak GHG emissions as soon as possible and provides a framework on how to do so. 

To achieve these objectives the 186 countries with the greatest emissions submitted nationally determined contributions (NDCs). These targets outlined each country's commitments for curbing emissions through 2025 or 2030.

For example, the United States' first NDC seeks an economy-wide target of reducing GHG by 26 to 28 percent below 2005 levels by 2025. New Zealand pledged to reduce greenhouse gas emissions to 30 percent below 2005 levels by 2030. And China committed to achieving peak carbon emissions and to lower emissions by 60 to 65 percent below 2005 levels by 2030.

NDCs are not a top-down dictatorial arrangement but allow every country to come to the table relying on their own capabilities. While not a silver bullet solution to reaching emissions goals, it points the world in the direction of progress that can be built upon.

There's no defined punishment for breaking the Paris Agreement because the idea is to encourage accountability to influence countries to act on climate.

Each nation has varying strategies and ambitions that reflect its capabilities, finances and responsibility for global emissions. 

On the ground, progress will look different depending on your home country. In the United States, citizens will find it easier and more affordable to purchase electric vehicles, see more preservation of public lands, many of which will act as carbon sinks, and a greater reliance on renewable energy.

The Paris Agreement is all about transparency.

It asks countries to present actions taken and individual progress toward climate change mitigation by 2024.

A "Global stocktake" of outside experts will assess the progress of each country relative to their goals and determine collective progress toward the Agreement's long-term climate objectives. These findings will determine new recommendations for more ambitious goals moving forward. 

Countries must revisit their pledges every five years, with the goal of further driving down emissions.

There are frameworks in place to help nations that lack the capacity to strengthen their goals over time.

The Agreement asks richer countries to help out poorer countries. The richest countries are far more responsible for global emissions, while underdeveloped countries often have contributed the least, but will suffer the most from the consequences of climate change.

The Agreement includes a plan that sends $100 billion in aid per year from richer countries to poorer ones by 2020, in order to boost their climate resiliency. That aid is set to increase in the future.

The Paris Agreement asks countries to actively develop new technology—such as improved renewable energy infrastructure—designed to help cut global emissions. The Agreement asks developed countries to cooperate in the seamless transfer of new climate technology to other countries.

On December 12, 2020, the five-year anniversary of the signing of the Paris Agreement, 70 Heads of State attended the digital Climate Ambition Summit.

During the six-hour event, world leaders presented their commitments to achieving the goals of the Paris Agreement.

The event allowed global leaders to collectively assess progress toward meeting the Paris goals. 

The progress was included in the 2020 Yearbook of Global Climate Action, which featured concrete and specific roadmaps for how to reach net-zero emissions by 2050. 

The international Climate Adaptation Summit will be held on January 25 and 26, 2021, where global leaders will meet to establish new goals to achieve resilience in the face of climate change.
In the next installment of POW's Paris For Dummies series, we'll dive into the importance of the Paris Agreement in preserving our outdoor playgrounds for our future enjoyment.