Kate Zessel inspires adventure and advocacy through art
Back
Photo by Tara Lilly
Creative Alliance member, climate advocate, skier and iconic artist, Kate Zessel designed the custom 2023 Team POW membership tee and hopes to inspire adventure and advocacy through her work.
The outdoors isn't just a place for Zessel to have fun and recharge. When she's looking for that creative spark she heads to the skin track or out on a local trail in her backyard of Pemberton, British Columbia. If you've seen her art and thought "I think I've been there before," you probably have. All of her creations are inspired by the beautiful landscapes she's explored. In fact, the artwork she created for the Team POW membership tee was inspired by a place Zessel holds near and dear to her heart. We chatted with her to learn more about her creative process and the places that fuel her creativity.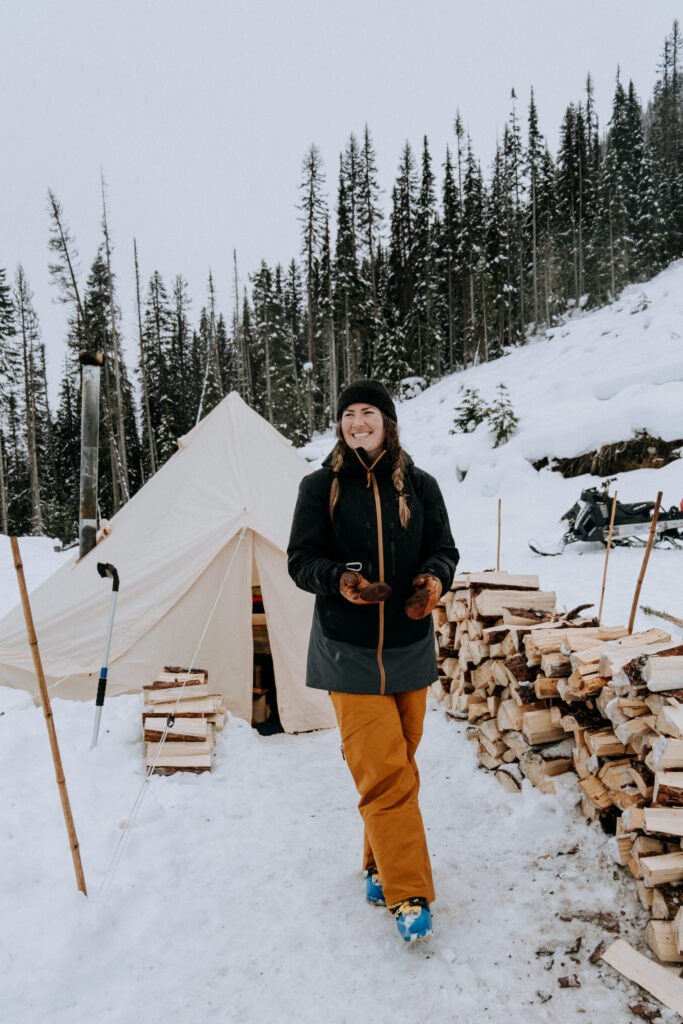 POW: Can you start by giving a brief background on yourself?
KZ: My whole life, my family was weekend warriors. My dad would pile us in the car at four o'clock in the morning and drag us up to Whistler. As I decided to go into school for art, my dad told me, "you're welcome to live in Whistler and be a ski bum, but you need to be an educated ski bum and have something to fall back on."
I ended up going to graphic design school in Vancouver and I loved it, but it was very based on graphics versus illustration. When I finally moved to Whistler, I decided I really wanted to design ski graphics. That was my ultimate goal to get to.
POW: How did you get involved with POW?
KZ: I had grown up doing a weekend ski program where we learned learned how to big mountain ski, do tricks and drops. I heard about Protect Our Winters through that program, but didn't really understand what it was or why I needed to be a part of it until I got older. Over the years I've worked with different ski and snowboard brands, and within them there's always a donation portion and I would always personally suggest Protect Our Winters. For me, POW has been such an integral part of being able to get inspired and be in the mountains and enjoy them. It is close to my heart and has consistently been in the background of my life. I try to mix up who I'm donating to a bit, but POW seems to be the one that I always go back to.
POW: How do you connect with the outdoors?
KZ: I'm in them every day, which is so lovely. I feel like I got a dog just to force myself to get outside and walk an hour each day.
Two years ago I moved to Pemerbton onto a property where I can now leave the house and go climb the mountain in my backyard every day. It's been really awesome to enjoy the mountains in the way that I can. The mountain on the front of the Team POW tee is actually of one of the mountains in my backyard.
Whether it's winter or summer, I'm outside. I have to consider the outdoors as a part of my education and a part of my job because without it, I actually can't produce. I've found times when I'm actually way too busy with packaging orders or producing just to produce artwork and that gets really hard. To produce new ideas and new concepts, I personally have to get outside and push past my comfort zone. I need to have those full days in the mountains to reset and when I can't do that, it has to be those micro adventures that I can do.
POW: Is the artwork on the Team POW t-shirt a specific location?
KZ: I drew the Tantalus Range, which was really a full circle moment. As a kid, we would drive from Vancouver to Whistler and when we'd reach the lookout on the Sea to Sky Highway with the view, my whole body would just relax. I'm not sure whether it was because it signified the start of the weekend or the feeling of coming home to the mountains. My body would just be like, "hey, I'm coming home." I never understood it until I moved to Pemberton and got to experience the slower paced lifestyle.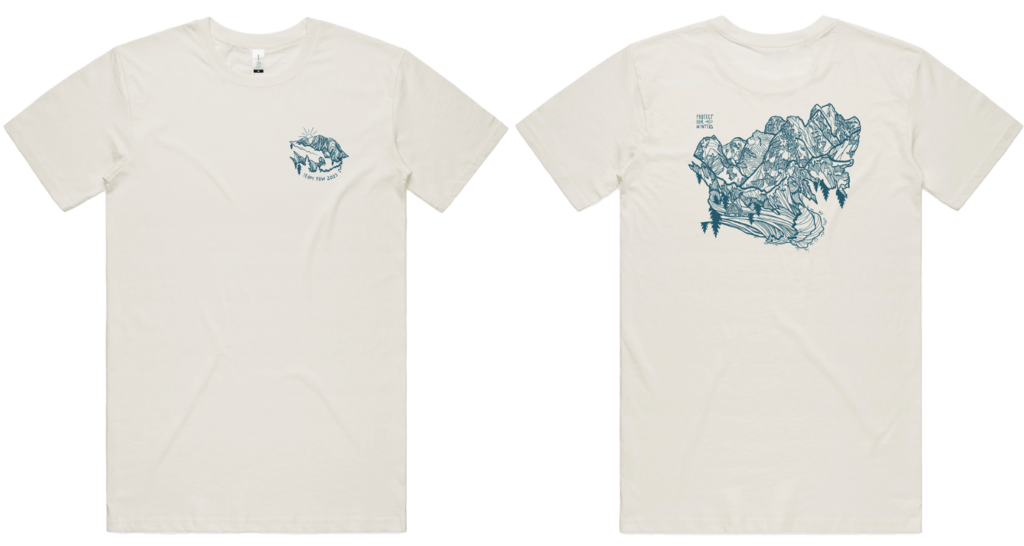 POW: So the Tantalus Range is an inspiring location for you?
When I'd see the Tantalus, I always thought about how one day I'm gonna ski that thing. It was a mecca for me and I think I just built it up in my head to be this iconic peak that I was relating to the calmness it would give me. When I finally went I was there on a work assignment for a brewery. We were going to make a beer, ski the Tantalus Range and get all the media for it, but the day we went was insane. We had tried to go three or four times and they all got canceled because of Covid or weather. I told my friend Abby in the parking lot that I was not going to be excited until we were at the hut because this has been canceled too many times over too many years. When we finally made it my whole body was just like "holy shit like we actually made it here."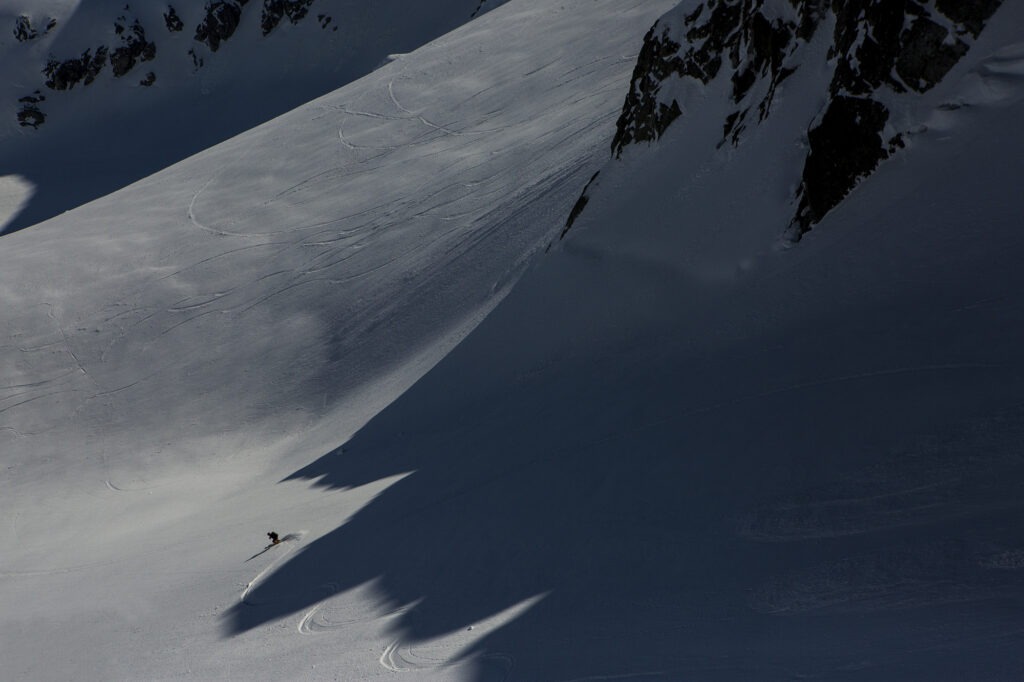 That feeling continued because we were in massive avalanche terrain and it was not the best day to be out there. After we skied one lap, we had to bail because there were avalanches coming down left, right and center. It was still a full circle moment because I have driven past the viewpoint over so many years and I've tried to get there so many times. Even though it wasn't this amazing trip, just the experience of being up there and seeing the peaks up close was huge for me.
That peak will forever hold this pinnacle view in my mind. which is why when I was asked to design this membership tee for Protect Our Winters, it was my first initial thought. I wanted to draw this peak because for me, that's what signified winter. POW represents and inspires individuals and companies to work together to save our collective home. The Tantalus felt like home for me.
POW: How do you integrate climate advocacy into your art?
KZ: That feeling I got being out in the Tantalus Range; you want people to experience that and know that we want this feeling long term. Protect Our Winters is here to do exactly that: to create that feeling and to allow people to be outside and be advocates for all these things that we love. We want a future where we're going to be able to still do what we're doing now.
How do you create that feeling through a piece of artwork? The answer is, I don't know. I don't know what it is specifically in a piece that will resonate with somebody, because I think for each individual it'll be different. Whether it's the colors, a line that they see that they want to ski or maybe it's just the flowiness of the piece. It could be anything for anyone.
If I can lend my artwork which is inspired by all these places that I've visited, hopefully others will go there too. I hope that feeling inspires people to sign up for Team POW and want to be a part of protecting these places whether it's because they want that feeling I had in the Tantalus Range, they want to visit that place one day, or want their kids to be able to experience that feeling or place.
---
You can get this rad tee by donating $50 when you sign up for Team POW. It also comes with a bunch of other sweet perks like discounts on all POW merch, exclusive deals with partner brands, opportunities to attend the POW Leadership Summit, and more. 
---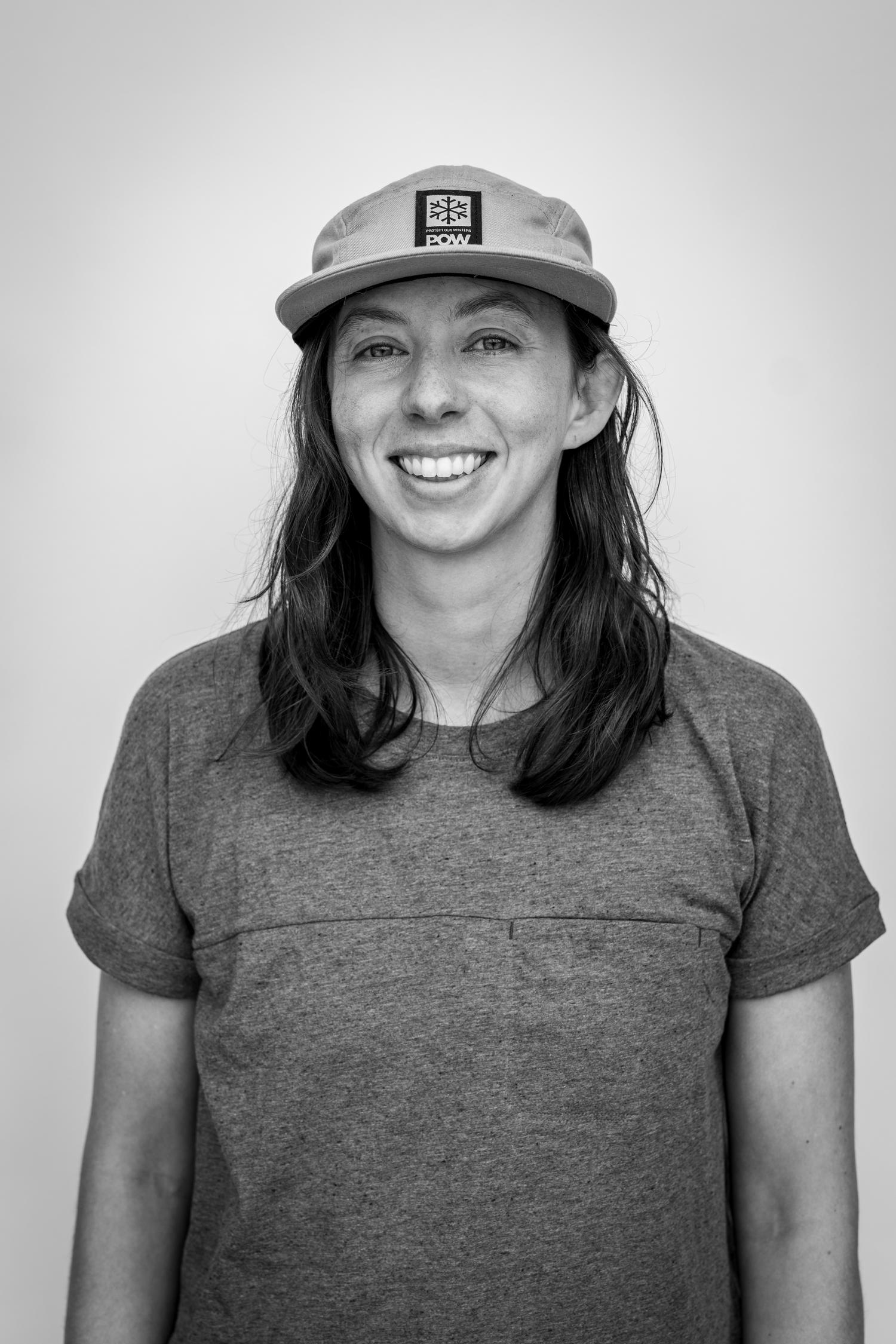 Author: Stacie Sullivan
Stacie always knew she wanted to pursue a career in the ski industry from a young age, having first clicked into skis at the age of 4 and writing her 8th grade career project on being a professional skier. While her dreams of becoming a professional athlete didn't quite pan out the way she planned at […]