Gov. Jared Polis To Attend Annual POW Party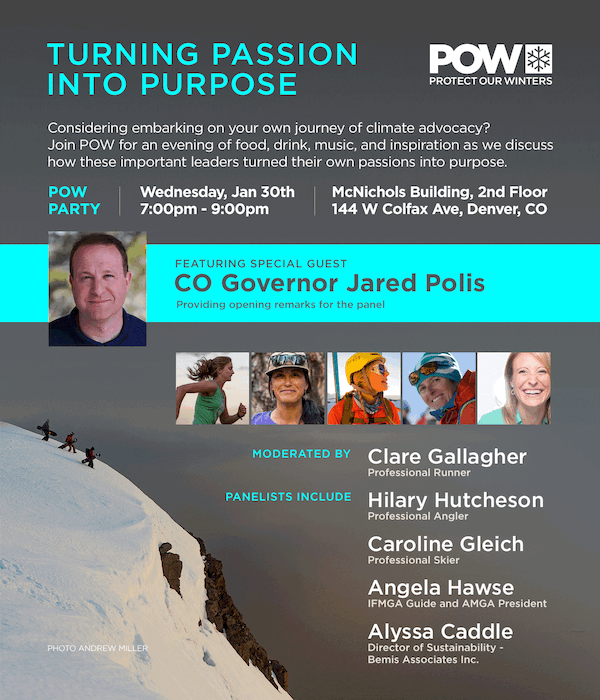 Protect Our Winters is excited to announce a special appearance by Gov. Jared Polis at their annual POW Party at the Outdoor Retailer Snow Show in Denver.
POW's annual party provides a platform for members of the outdoor community to connect with one another and offers inspiration to take action on climate. The party will feature a panel of outdoor athletes and industry leaders and will be introduced by Gov. Polis.
POW is the principal organization in the outdoor community unifying the voice of brands, athletes and industry leaders on climate change. By driving the outdoor community to civic action––such as get out the vote campaigns across the U.S. prior to the 2018 midterm elections––POW leverages this community to push for climate policy at the state and federal level.
The Polis Administration plans to move Colorado's grid to 100 percent renewable sources by 2040 and readily advocates for Colorado's $28 billion outdoor recreation economy, demonstrating a clear overlap with POW's policy agenda on renewable energy and climate solutions.
"On the campaign trail, Candidate Polis highlighted a clear link between a healthy climate and robust outdoor community," said POW Executive Director, Mario Molina. "We were pleased to see one of his first actions as governor address climate change. We look forward to working with Gov. Polis on other climate-related initiatives in Colorado and welcome his opening remarks at our party."
The annual POW party will be held at the McNichols Building at 144 West Colfax in Denver, Colorado and runs from 7:00 pm – 9:00 pm. Gov. Polis will deliver his remarks and open the floor to the panel beginning at 7:45 pm. Music and drinks will close out the evening. The party is open to the public and is first come first serve.