Give Your Gear New Life While Supporting POW's Efforts
Guest Post from Threadlyte's Brian Flickinger
Do you have a closet full of like-new outdoor clothing that hardly gets worn? Are you in the market for a new jacket, baselayer, or pair of ski pants but don't want to shell out for full price, brand name clothing? Let Threadlyte help and donate to POW at the same time!
Threadlyte is an online store for second hand outdoor clothing. We pay up-front for your like-new and gently used, brand name outdoor clothes, and resell them for great prices on our website. We love what POW is doing to raise awareness about climate change and to rally the outdoor community behind initiatives to support climate action. We want to give the community a new way to support POW by donating the proceeds of their clothing sales. When you are ready to sell your outdoor clothing, visit here.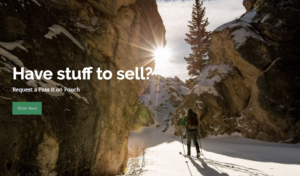 We'll send you a bag and a pre-paid shipping label. Load it up and drop it at FedEx. Upon receipt, we will inspect the items and send you a quote. When you accept the quote, you can elect to have the money donated to POW instead of taking a check. It is as easy as that!
The environmental aspect of our business is huge. Getting the outdoor community to think about buying clothing second hand and selling like-new clothes that are no longer being used is a major win in reducing the environmental impact of the textile industry. Combining this shift in thinking with providing additional support for POW means we are doing double duty for the environment– and now more than ever, we need to do everything we can to protect it for generations to come.
Stay tuned as we will offer periodic specials on clothing purchases where a portion of your purchase price will be donated to POW. We are looking forward to growing this partnership and continuing to fight the good fight against climate change. Happy Adventuring!