Getting Governor Cuomo to Go Big on Climate
Here at POW, we're all for climate solutions that ensure a stable climate and a future of snowy winters. We think one of the best ways to combat climate change is by putting a price on carbon pollution, and we're psyched that many New Yorkers agree.
We've teamed up with NY Renews to push for a 'polluter penalty' in Albany. We want to make corporate polluters pay for their carbon pollution, and today, we're calling Governor Cuomo to ask him to join us.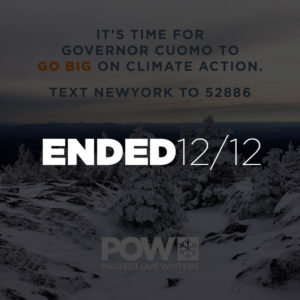 If you're from New York, can you call today and ask him to commit to 100% renewable energy and make corporate polluters pay for emitting climate-fueling greenhouse gasses? As always, we've got you covered. Enter your information above, and we'll connect you and show you a script of what to say!
Want to learn more about carbon pricing and why POW supports it? Check out our policy agenda and study up here. And, you can check out our partners on the ground, New York Renews, here.