From Athlete to Activist
Back
Caroline Gleich Leads the March
 Anja Semanco
On the final day of Outdoor Retailer in Denver, Colorado, amid the sounds of booths in active deconstruction and the hubbub of the final pack up, came a small chant through a tiny bullhorn. At first, it was too quiet to make out the words, but as the crowd began to grow and make its way to the front of the convention center, the chant was undeniable: "Hey, hey! Ho, ho! Climate change has got to go!"
Within minutes, streams of cardboard sign-carrying youth poured to the front of the building, gathering outside on an unseasonably warm January day. As the speakers opened, gathering the protestors into a tight circle, there was a positive energy pulsing through the crowd.
Caroline Gleich, professional ski mountaineer and organizer of Climate Rally 2020, made a quick introduction and handed off the mic to the indigenous and youth activists who quickly fired up the crowd. And for Gleich, that was entirely the point of the rally.
"I wanted to create this event to challenge people's stereotypes about what a leader looks like, especially in the climate space," said Gleich. "What I'm learning as I step into my own leadership is that it's about creating a stage and a space where you can pass the mic to other people whose voices really need to be heard. "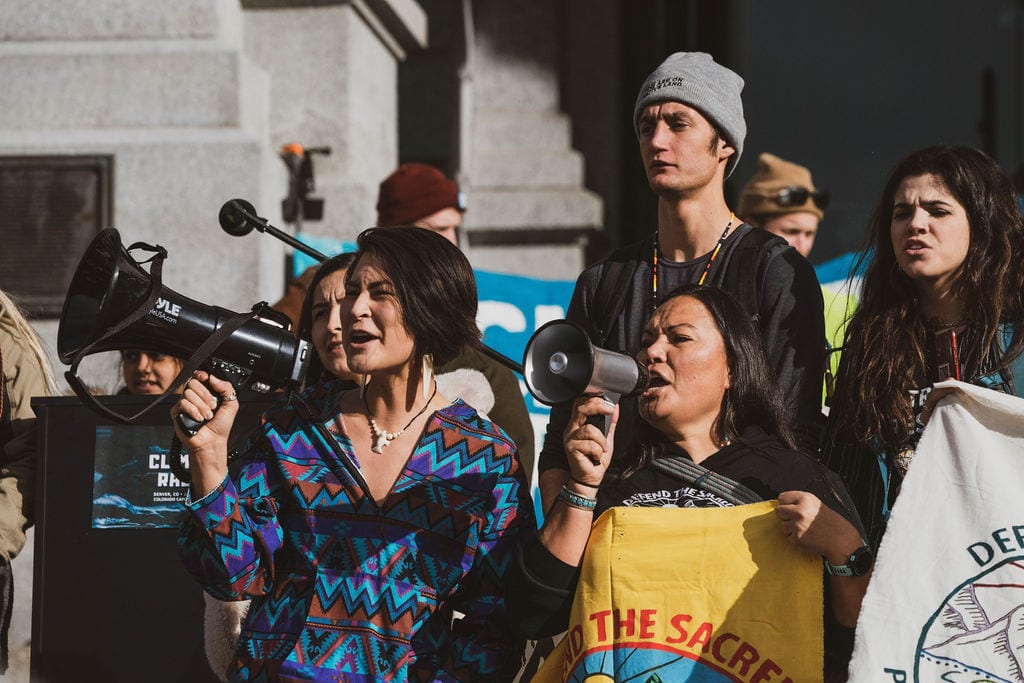 Drawing on inspiration from the youth activists who strike on Fridays and Jane Fonda's Fire Drill Fridays, when Gleich saw that the last day of Outdoor Retailer fell on a Friday, she knew it would have been a missed opportunity not to lend outdoor voices to the cause. Through her organization, the Big Mountain Dreams Foundation in partnership with climber and outdoor advocate Katie Boué's organization, Outdoor Advocacy Project, the rally was born. Gleich came up with the idea over the holidays, applied for the permit right away and had it approved just a week later. Then came the hundred-plus hours in front of her computer, sending out hundreds of emails, having dozens of phone calls and connecting with as many different brands and individuals as she could. By Friday, January 31, the climate rally was successfully assembling.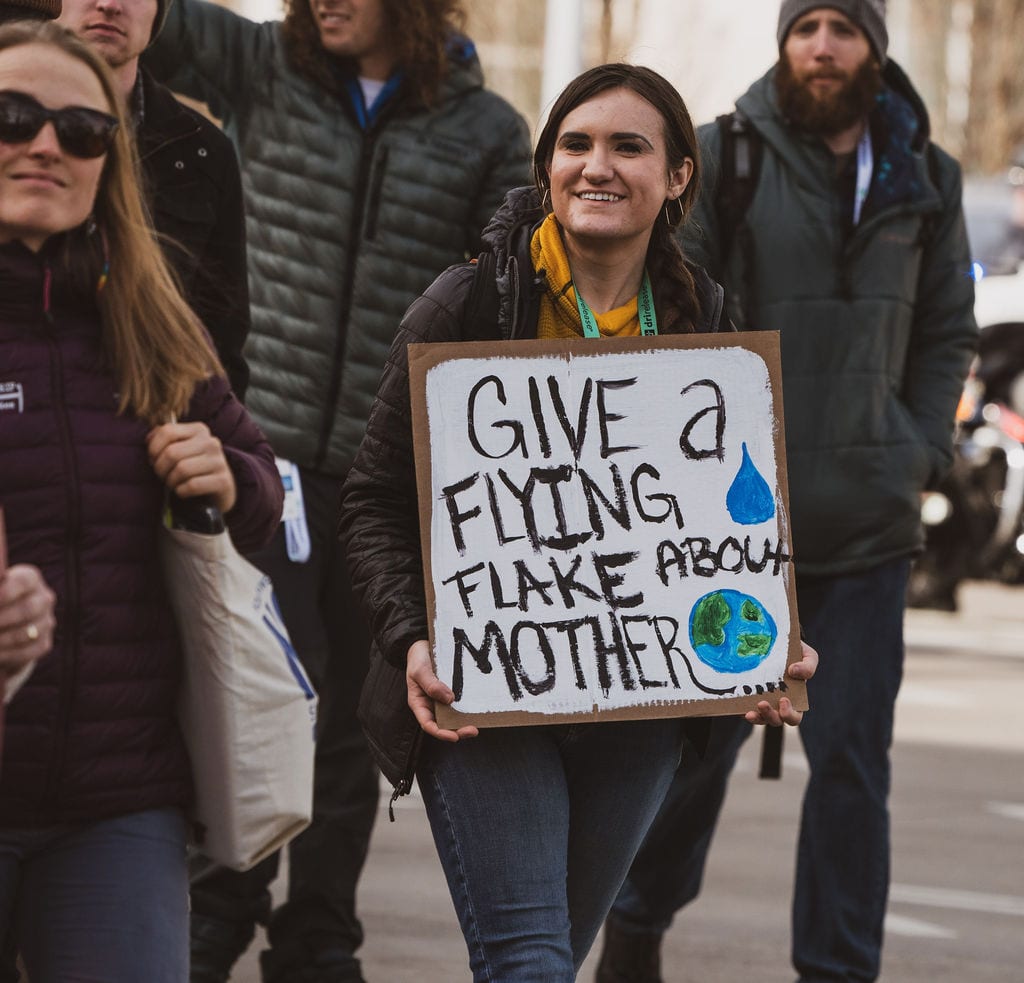 Centering this rally around Outdoor Retailer––the nation's largest outdoor tradeshow––was no coincidence.
"There are definitely some outdoor brands that are really leading in terms of climate, but there are a lot of brands that haven't found their voices yet," said Gleich. "I wanted to push everyone to find their voice, take action and start."
Whether it was someone's first climate action or their hundredth, Gleich said the rally was about creating a place where everyone could come together and mobilize and get energized about climate action.
"It's one thing to be on a panel talking about climate, it's another to take it to the streets," she said.
That Friday, as the first round of speakers closed out, the crowd marched toward the Capitol building in downtown Denver. As they filled in the plaza, speakers like Jeremy Jones, Clare Gallagher, Madhvi4EcoEthics, Haven Coleman and Deenaalee (among so many others) took to the stage to share their stories. And the crowd was visibly moved.
"Katie and I worked really hard to make sure the rally was a representation of youth voices, outdoor recreation people (people our industry would recognize) and people that were leaders in the Colorado climate movement," said Gleich.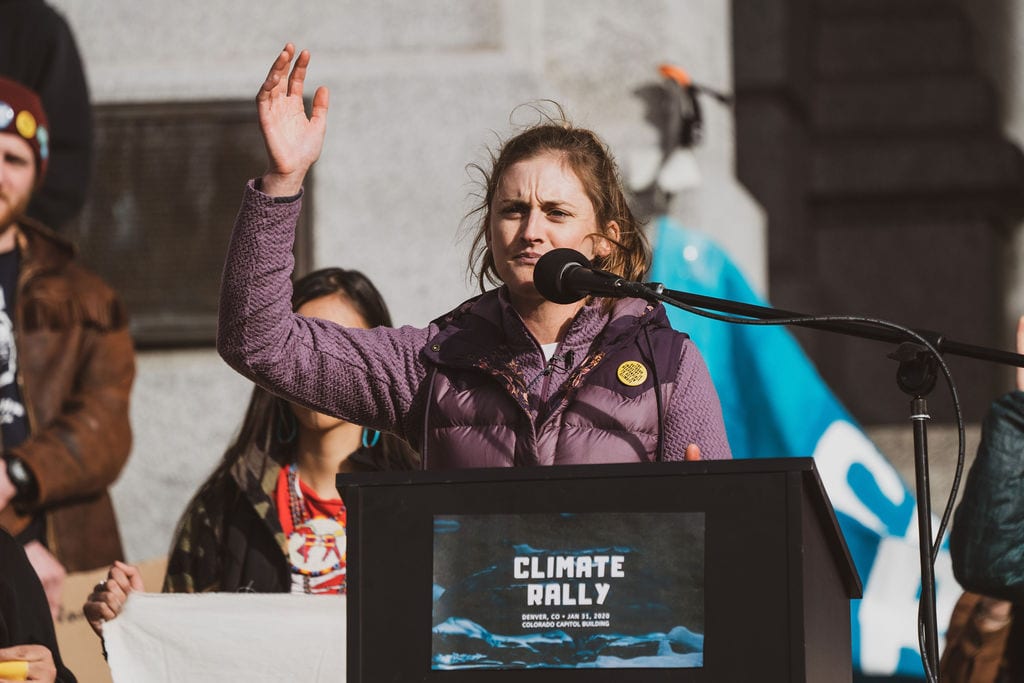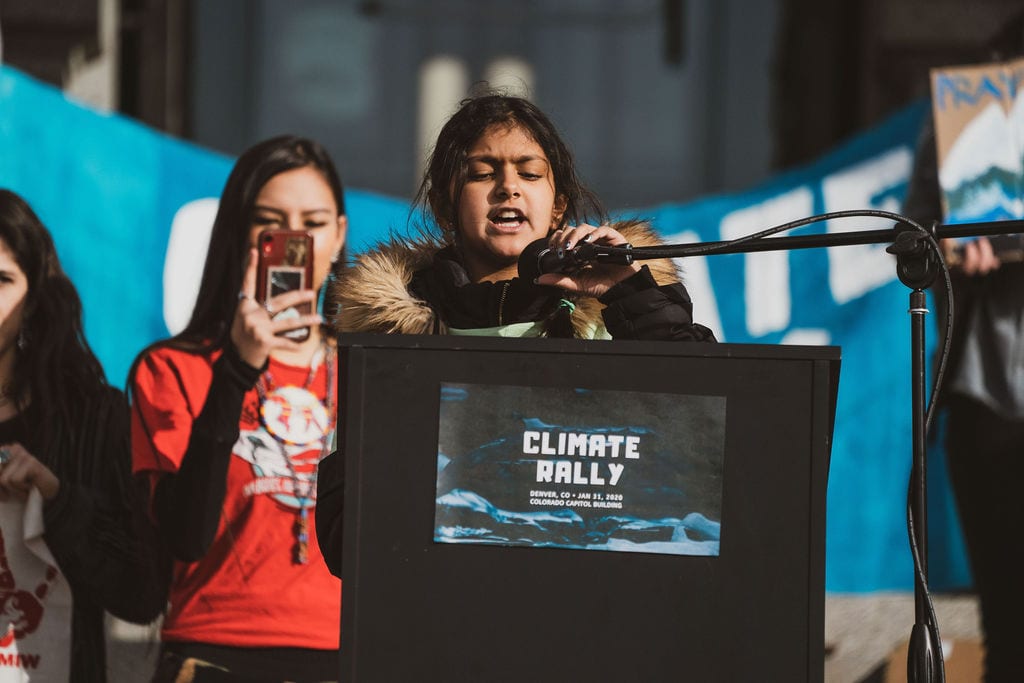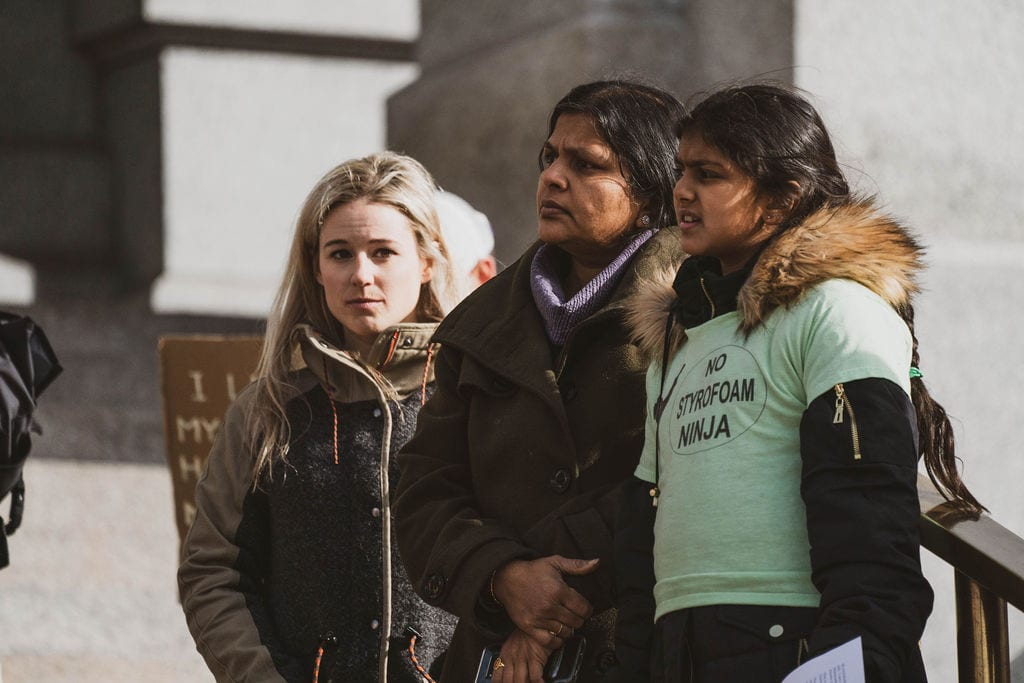 As the afternoon came to a close, Deenaalee had the crowd rub their hands together, swaying them back and forth as salmon swimming up a river together. It was moments like this, and earlier as the crowd came together to hold hands, that Gleich said she felt most moved.
"To me, you can talk and you can write about climate, but I want to actually do things."
The next day, social media was ablaze with photos and personal testimonies from the rally––many expressing that this was their first climate rally and some even their first climate action. Gleich said that ethic of caring and compassion is what she most hoped to bring to people that day.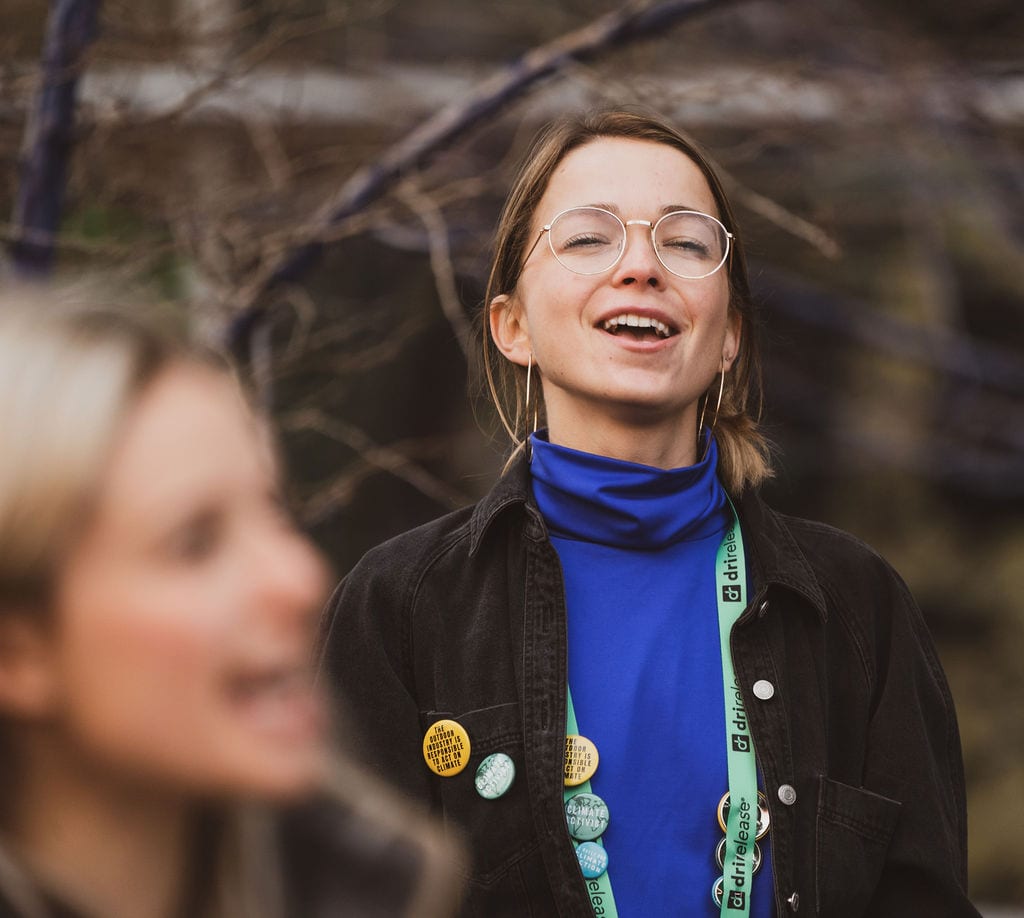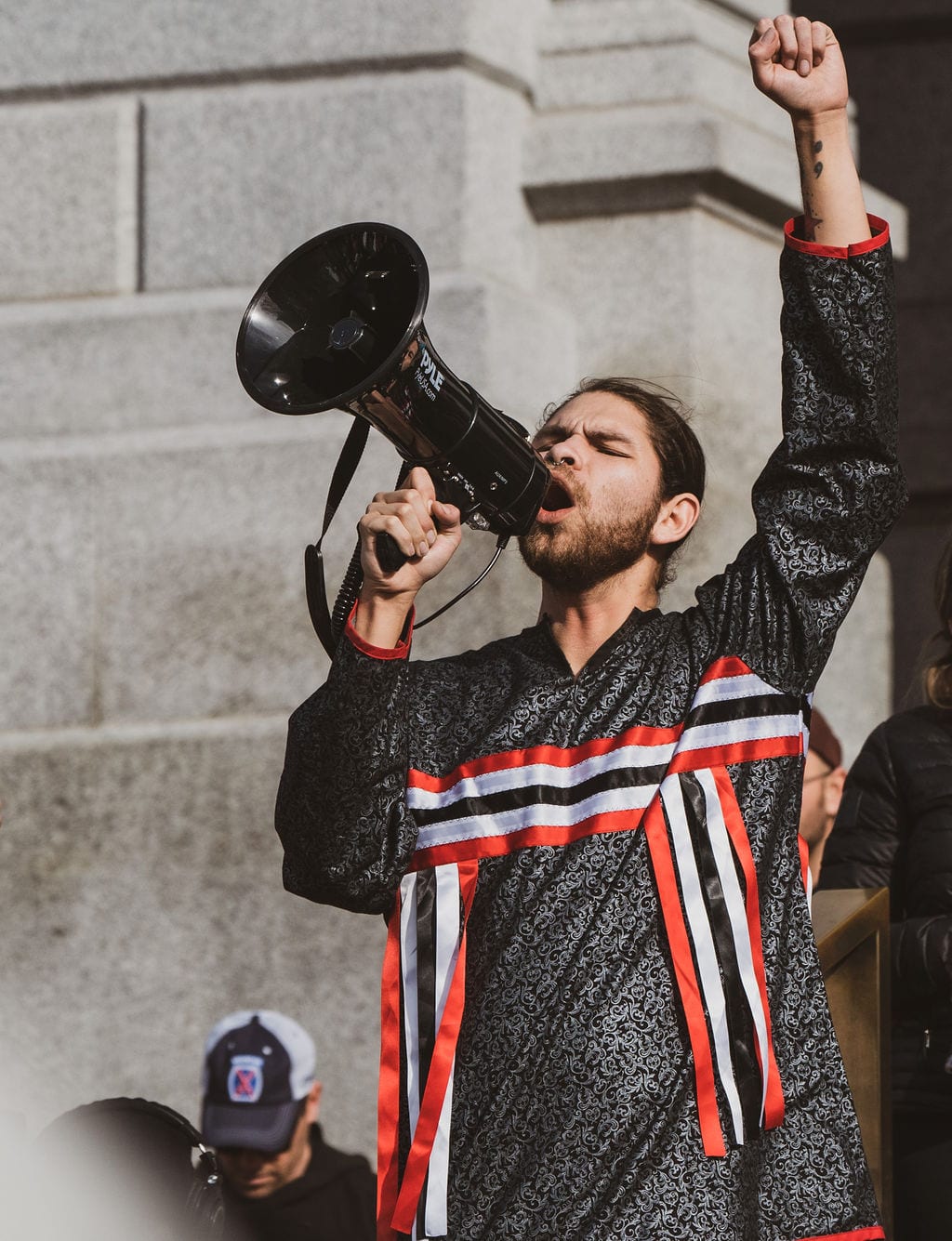 "My background on climate has come from my parents––my mom especially, who is a great caretaker," said Gleich. "Climate doesn't have to affect you directly for you to care very deeply about it. We should care because it affects other people. Even if our backyard isn't threatened, other people's are."
For Gleich, activism inspires activism. "Seeing the examples of brave folks who put themselves out there for our climate and our future has inspired me to dig deep and do the same. I hope that the climate rally had a similar effect."