EPA: Please Do Your Job
In February, President Trump signed an Executive Order to 'alleviate unnecessary regulatory burdens placed on the American people.' Read: Roll back important environmental regulations to allow fossil fuel companies to do what they like. He's directed Scott Pruitt, Administrator of the Environmental Protection Agency, to identify regulations to overturn. The EPA is asking for your recommendations. What rules should they scrap?
We know that regulations can combat climate change. We know it is crucial to address climate change and protect clean air and water. If anything, we need MORE protections to ensure a future with a stable climate and snowy winters, NOT FEWER.
After all, isn't the EPA's job to protect human health and the environment? How can they do that by killing all environmental protections? So far, they've heard an earful about the need for regulations. Let's keep it up; comments close May 15th.
We're asking you to submit comments— tell the EPA to do its job.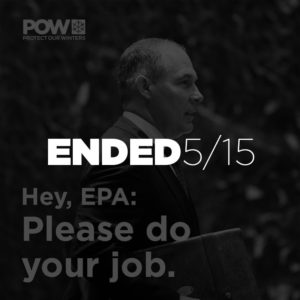 Climate change is a real threat to our health and the environment. We need the Clean Power Plan to curb emissions from power plants. We need to limit methane emissions from oil and gas production. We need strong fuel efficiency standards to reduce emissions from vehicles. All of these are regulations on the chopping block (or they've already been chopped). Tell the EPA we need them all—and more.