Prepare for Earth Day by Educating Yourself on Climate
So, you've chosen your Earth Day Instagram picture and clever caption followed by a flood of #Earthday2018 #Earthdayeveryday #Recycle #ClimateChange. Now what? POW loves social media too, and that sweet Alps picture from last year's ski trip is going to get tons of likes, but what about dedicating some time in honor of Earth Day to learn a bit more about climate change science, history, and news. 
It's all a bit overwhelming, you say? Don't worry, you're not the only one who feels this way, but rest assured that there are tons of resources that make staying in the know easy. Below, we've assembled a few ways to brush up on your climate knowledge; you'll find our favorite websites, documentaries and even a whole pile of super interesting books below.
Protect Our Winters Resources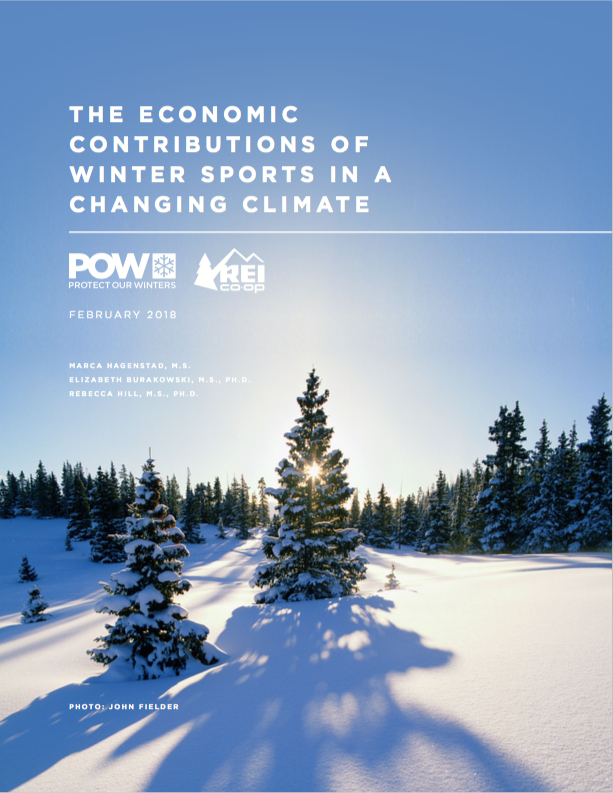 Economic Report: The Economic Contributions of Winter Sports in a Changing Climate
POW's recently published economic report that highlights the impact that climate change has on the economy of our beloved mountain towns.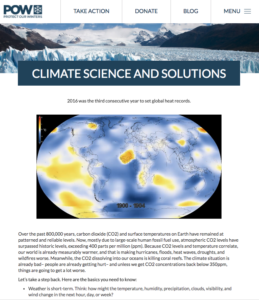 Protect Our Winters Climate Science and Solutions 
A primer on the basics of climate science and the changing climate including a discussion on the sources, the impacts, and solutions for mitigating climate change.
---
Our Favorite Books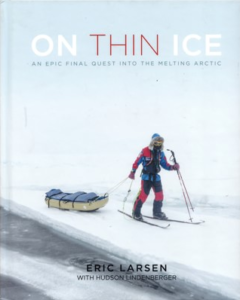 On Thin Ice
By POW Alliance Member Eric Larsen 
The story of Eric Larsen and Ryan Waters trek across the melting Arctic Ocean, unsupported, for nearly 500 miles. Think your commute is rough? Think again; the duo traveled (both carrying sleds with 320 pounds of gear behind them) on skis, snowshoes, and even swam through semi-frozen slush sometimes moving barely a mile a day.
Not only is the book filled with colorful photos and GPS maps plotting their progress, it offers an in-depth look at the effect global climate change has played on the Arctic.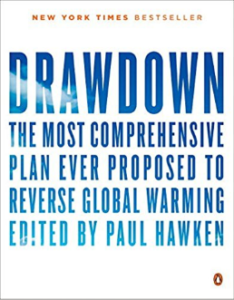 Drawdown: The Most Comprehensive Plan Ever Proposed to Reverse Global Warming
By Paul Hawken
After we saw Paul Hawken's presentation at MountainFilm in Telluride, we knew we had to grab this book. Stay tuned for our own review, but in the meantime, here's a review to give you an idea of what to expect.
"There's been no real way for ordinary people to get an understanding of what they can do and what impact it can have. There remains no single, comprehensive, reliable compendium of carbon-reduction solutions across sectors. At least until now. . . . The public is hungry for this kind of practical wisdom."
—David Roberts, Vox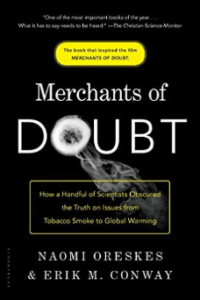 Merchants of Doubt: How a Handful of Scientists Obscured the Truth on Issues from Tobacco Smoke to Global Warming
By POW Board Member Naomi Oreskes
Now a powerful documentary from the acclaimed director of Food Inc., Merchants of Doubt was one of the most talked-about climate change books of recent years, for reasons easy to understand: It tells the controversial story of how a loose-knit group of high-level scientists and scientific advisers, with deep connections in politics and industry, ran effective campaigns to mislead the public and deny well-established scientific knowledge over four decades. The same individuals who claim the science of global warming is "not settled" have also denied the truth about studies linking smoking to lung cancer, coal smoke to acid rain, and CFCs to the ozone hole. "Doubt is our product," wrote one tobacco executive. These "experts" supplied it.
Also, this book has been turned into a great documentary. Check it out!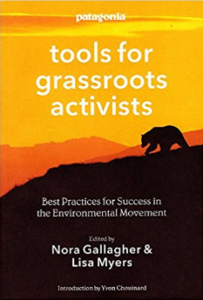 Tools for Grassroots Activists: Best Practices for Success in the Environmental Movement
By Nora Gallagher and Lisa Myers
For more than twenty years, Patagonia has organized a Tools Conference, where experts provide practical training to help make activists more effective, and in 2013, we had the honor of attending the Conference. This book serves as the perfect resource for any organization hoping to hone core skills like campaign and communication strategy, grassroots organizing, and lobbying as well as working with business, fundraising in uncertain times and using new technologies.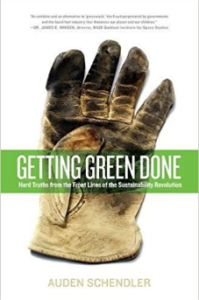 Getting Green Done: Hard Truths from the Front Lines of the Sustainability Revolution
By POW Board Chair Auden Schendler
Publisher's Weekly Review: "Prius drivers and recyclers take note: according to debut author Schendler, your efforts to be environmentally correct are admirable, but are hardly the kind of urgent, unified action we need to really make an impact on global climate change…By challenging status quo thinking about sustainability and taking the point of view of the business executive and the worker in the field, Schendler offers a perspective that is refreshingly realistic and pragmatic."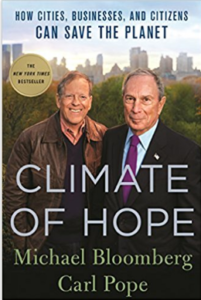 Climate of Hope: How Cities, Businesses, and Citizens Can Save the Planet
By Michael Bloomberg and Carl Pope
From Mayor Michael Bloomberg and former head of the Sierra Club Carl Pope comes a manifesto on how the benefits of taking action on climate change are concrete, immediate, and immense. They explore climate change solutions that will make the world healthier and more prosperous, aiming to begin a new type of conversation on the issue that will spur bolder action by cities, businesses, and citizens―and even, someday, by Washington.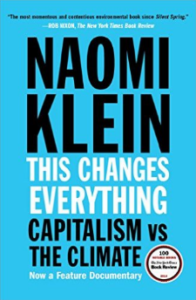 This Changes Everything: Capitalism vs. The Climate
By Naomi Klein
The most important book yet from the author of the international bestseller The Shock Doctrine, a brilliant explanation of why the climate crisis challenges us to abandon the core "free market" ideology of our time, restructure the global economy, and remake our political systems.
---
 Our Favorite Websites

Founded in 1999, Grist is a beacon in the smog — an independent, irreverent news outlet and network of innovators working toward a planet that "doesn't burn and a future that doesn't suck". Grist's independent, nonprofit newsroom pursues in-depth stories on under-covered topics like clean energy, sustainable food, livable cities, and environmental justice by elevating solutions and giving readers the context, knowledge, and the tools to make a difference.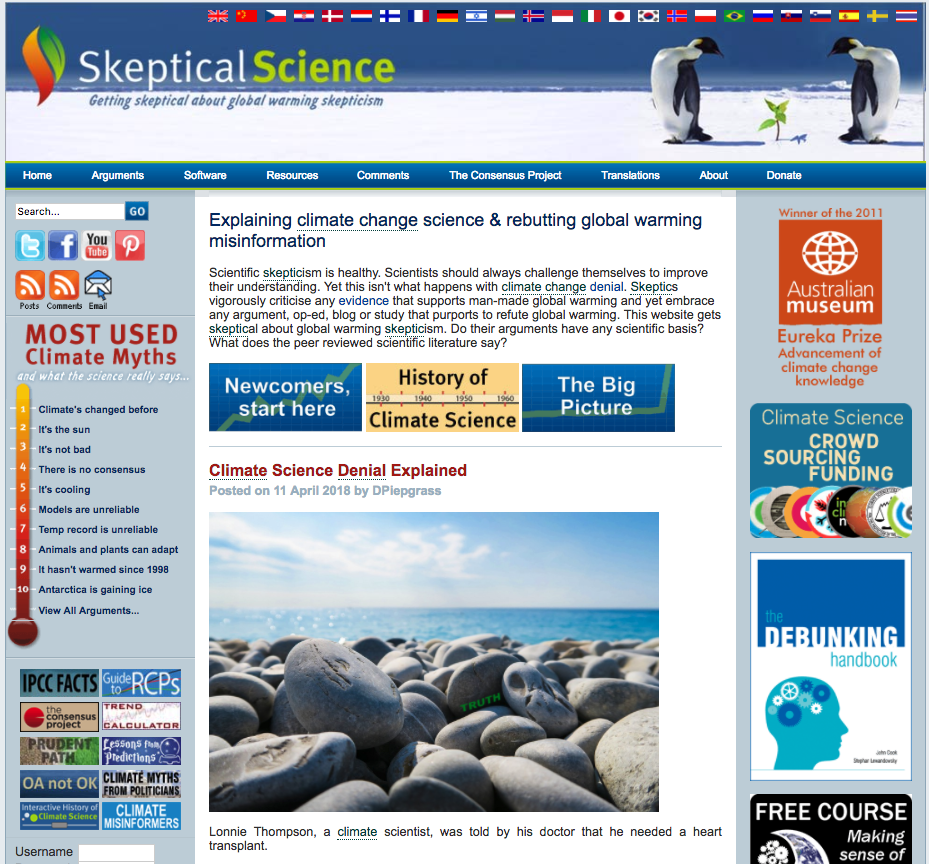 Skeptical Science is a non-profit educational organization, run by a global team of volunteers, with the goal of explaining what peer reviewed science has to say about global warming so as to remove politics from the climate debate by concentrating solely on the science.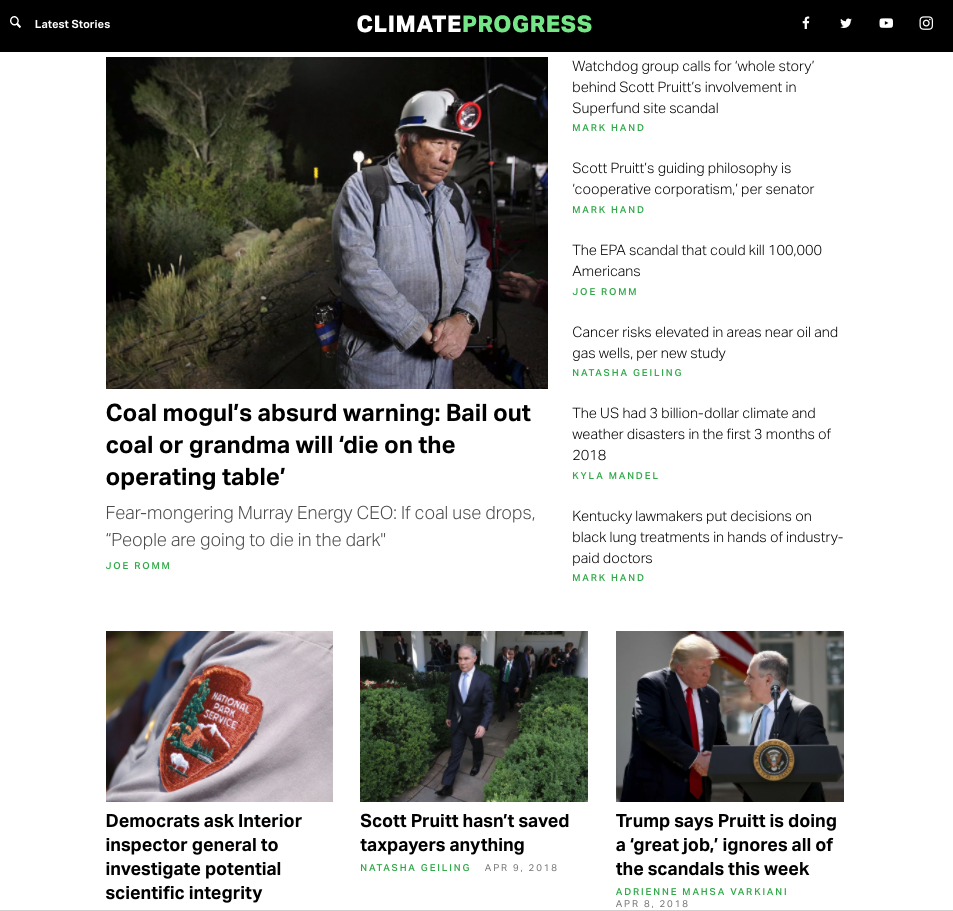 Climate Progress is a part of the ThinkProgress news site dedicated to providing the progressive perspective on climate science, climate solutions, and climate politics. Award winning content earned Climate Progress a place in Time Magazine's "Best Blogs of 2010 and received Treehugger's Award for "Best Politics Website in 2010
Happy educating and Happy Earth Day!
---