Dakota Jones' Footprints Running Camp Creates Climate Action Through Community
Back
Photos courtesy of Dakota Jones.
For trail runner and POW Athlete Alliance Member, Dakota Jones, competing in races began to feel superficial. As a successful athlete he was taking free trips and traveling a lot, but as a climate advocate he knew he was having a negative impact.
"I knew there had to be a way to make this about more than just me," said Jones.
After having this realization he began questioning his 100% focus on racing, while also keeping in mind the running community and his own experience. How do you take a mostly singular sport, and create a community with other passionate trail runners with the same like-minded goal?
In 2017, Jones attended a running camp organized by a fellow trail runner, and friend Geoff Roes in Juneau, Alaska. During the camp, he witnessed the running community coming together, and making connections with a beautiful backdrop to boot. After this experience, Jones knew he could utilize the trail running community and create real climate action.
This new outlook on the sport led him to creating Footprints Running Camp, a week-long experience that takes the best part of trail running, the community, and uses it to protect the places and landscapes in which we recreate.
The short film, Footprints, produced by POW Creative Alliance member James Q Martin, in partnership with Salomon and Clif Bar, captures the beauty of southwestern Colorado's San Juan Mountains, where the camp takes place, and follows the campers' journeys as they make connections with each other, their mentors and create climate-related projects to implement within their own communities along the way.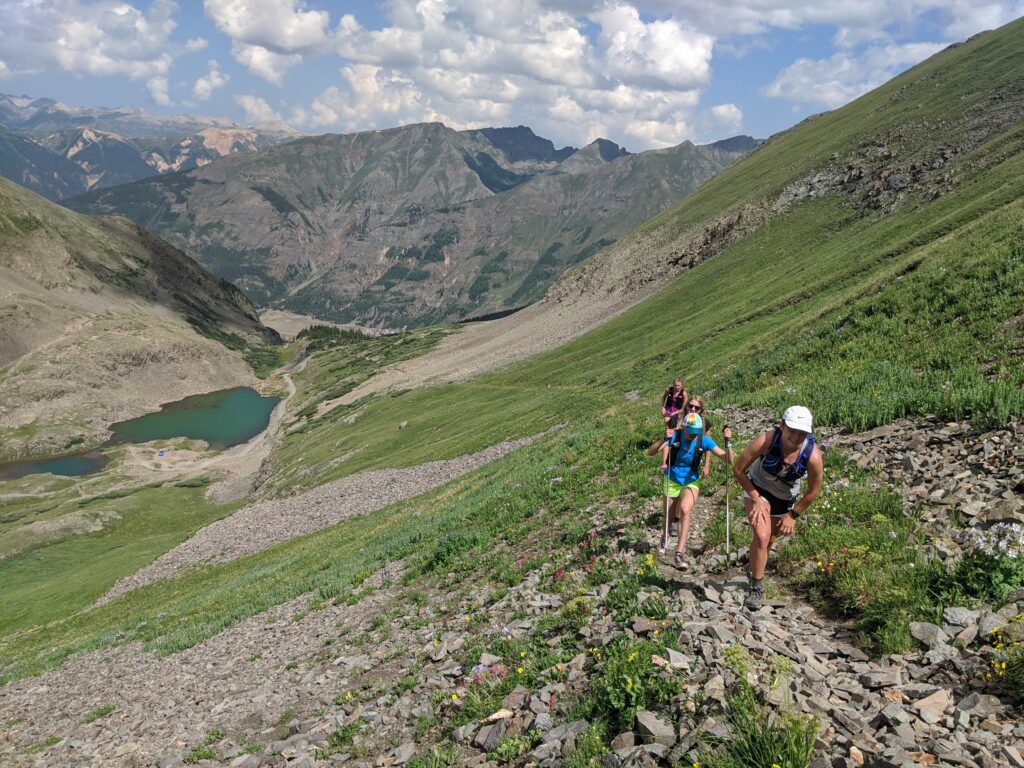 The Camp
After Covid postponed the camp for two summers, Footprints Running Camp made its debut during summer 2021. Like many of us who find our happy place in the outdoors, the campers came from all different backgrounds and athletic ability levels ranging from recreational hikers to competitive athletes, and all shared one thing in common: They all wanted to take action on climate within their local communities. Unfortunately, they didn't know where to start.
"The camp is about having conversations with people who find climate change overwhelming and aren't sure what to do," said Jones. "The goal of the camp is to provide solutions to that kind of helplessness."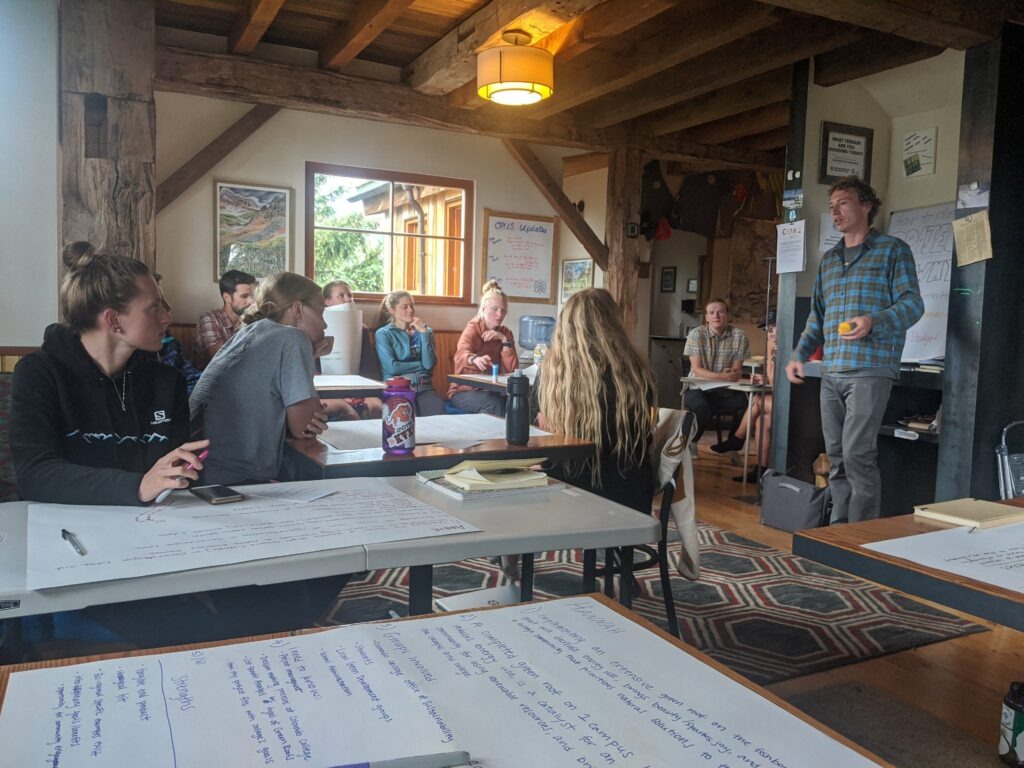 The camp breaks down these problems, creates a process and gives the campers the tools they need to work on a solution. Each camper is paired with a mentor who happens to be an expert on environmental advocacy, and they work together throughout the week to develop their project. Then, when it's time to go home they can implement the projects within their own communities.
The campers' projects don't come to fruition overnight, and the scope of each project is bigger than the duration of the camp. The idea is to start small and build the foundation for taking climate action by making connections. "During the camp we did a lot of activities that help create strong friendships that invite people to be open and vulnerable from the beginning, because that's going to help them be better collaborators on their projects," said Jones.
On the first evening of the camp he recalled seeing all the girls braiding each other's hair, while the rest of the group was chatting. "While building bonds and friendships isn't directly climate action, it's this kind of connection we need to come together and create action," said Jones.
At 20 campers, the camp is still on a small scale, but it is building the foundation of that community. "We're trail runners which is a very niche area, but it's the one where I have an impact," said Jones. "I want to do a good job in the space where I deliver, which is what POW is about. Using the community you have to make a difference."
Creating Actionable Projects
Summer 2021 was Footprints Running Camp's first year, and since the camp concluded, past campers are already implementing their projects into their communities. Abbie Sullivan is a competitive triathlete from Canandaigua, New York located in New York's Finger Lakes region, and is also the race director for Canandaigua's Main Street Mile. In 2015, Canandaigua Lake, where Sullivan often trains, began experiencing unexpected toxic harmful algae blooms causing the entire lake to be shut down for recreation.
"I feel like we often view climate change as a concept of the future, but having my favorite place to train abruptly taken away set in the hard reality that climate change isn't something that's coming, it's here," said Sullivan.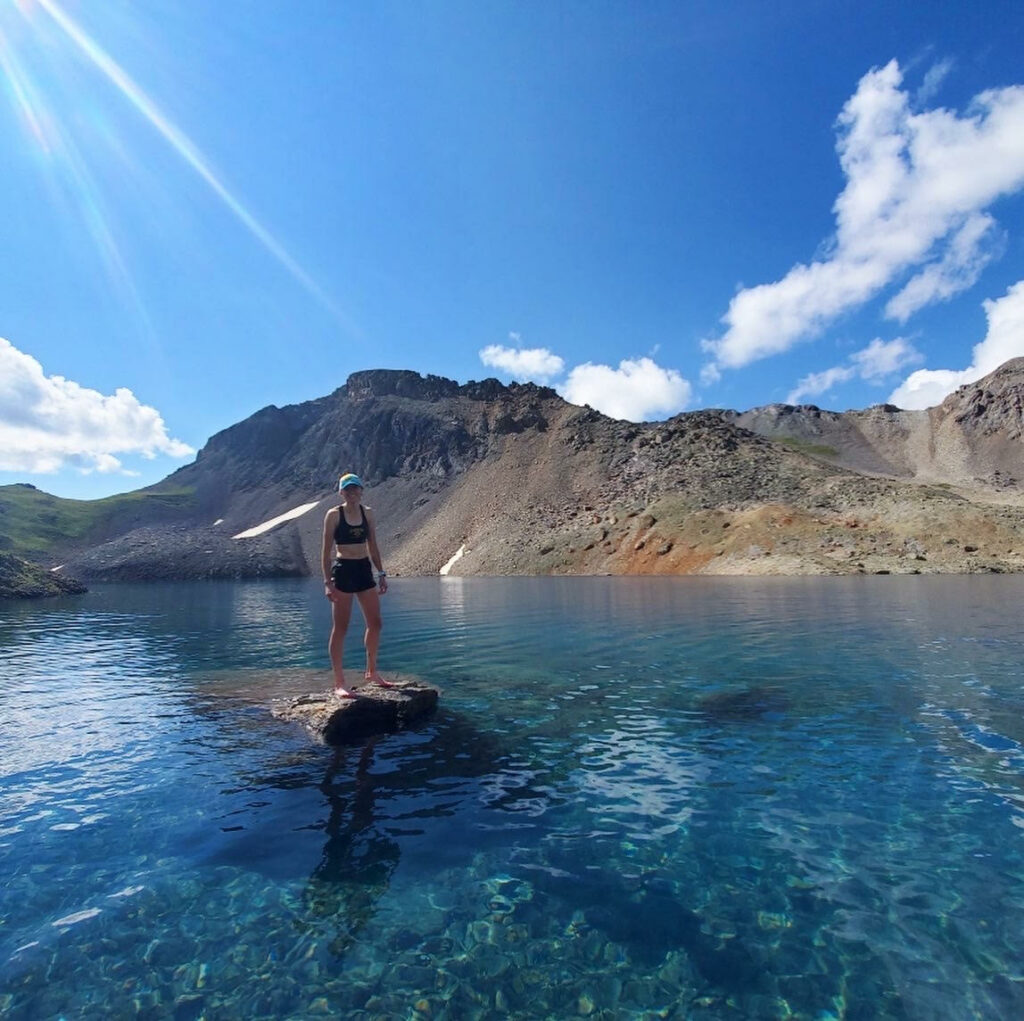 As someone who has a deep appreciation for the outdoors, watching this happen firsthand inspired her to take action, and Footprints Running Camp provided her with the platform and supportive community to do so.
"I feel that genuine passion and relatability have the ability to influence real change," said Sullivan. "Trail runners have a unique connection to both the land and the tight-knit trail running community- fast or slow, everyone experiences the same rocks and roots."
Sullivan is an engineer by trade with a focus on environmental management, so her project during the camp was to work on publishing a Hedonic Analysis on the effects of Harmful Algae Blooms (HAB) on Canandaigua Lake, and analyzing historical HAB data to determine potential sources of the blooms.
This project is no small task, and like so many of us, she felt like a "misfit" in a world that has so many priorities, when it came to taking climate action. "I was very overwhelmed and felt like I had the responsibility to solve a major environmental challenge in my community on my own," said Sullivan. "Footprints made me realize that individual people aren't responsible for healing the world alone; the camp brought the power of collective action to life by providing me the tools, resources and network to make true positive environmental change."
Since the camp concluded, Sullivan continues to work on her project and plans to present her research to Canandaigua's City Council to make a case for environmental action. She knows that this is a fight she likely can't win alone, but Footprints has provided her with the confidence to keep chipping away at her project one step at a time.
"Even if my work can't completely clear Canandaigua Lake of Harmful Algae blooms, my experience at Footprints has empowered me to take the lead on contributing the first piece of a greater puzzle," said Sullivan.
Another camper, Paul Edlund, from Bozeman, Montana, works for the Montana State Sustainability Center and the goal of his project was to make the Center more effective in its efforts. Despite already working in environmental sustainability, and having a project plan, the actual scope of implementing it still felt larger than life for Edlund. "Leading up to the camp, I was carrying this huge idea that felt too large for life; after all, what can I do as one individual to fix climate change?" said Edlund. "Working with my mentor and hearing the stories of my peers gave me a solid handle on what I could do."
His work didn't stop after the camp concluded. In fact, living in the same city as Jones, they got to keep working on the project together. "I went to a meeting at Montana State [University] with the President and Board of Regents where Paul's office presented a climate plan for up to 2040 with actionable steps to take, and the president endorsed the project," said Jones. "Obviously they were already creating those metrics prior to Footprints, but during the camp, he was able to contribute a large hand, and that feels like really tangible value to me."
Dakota's Journey
Jones has been finding ways to decrease his own carbon footprint over the course of his running career. In 2018 he completed a bike tour up to the Pikes Peak Marathon as a POW fundraiser, where he raised almost $11,000. He started a week before the race in Silverton, Colorado, rode to Colorado Springs and the start of the race, and then back home after finishing. To top it off, he won! Jones knew that while his success was a nice gesture for climate action, not everyone has the time to take two weeks out of their life and ride a bike to every race.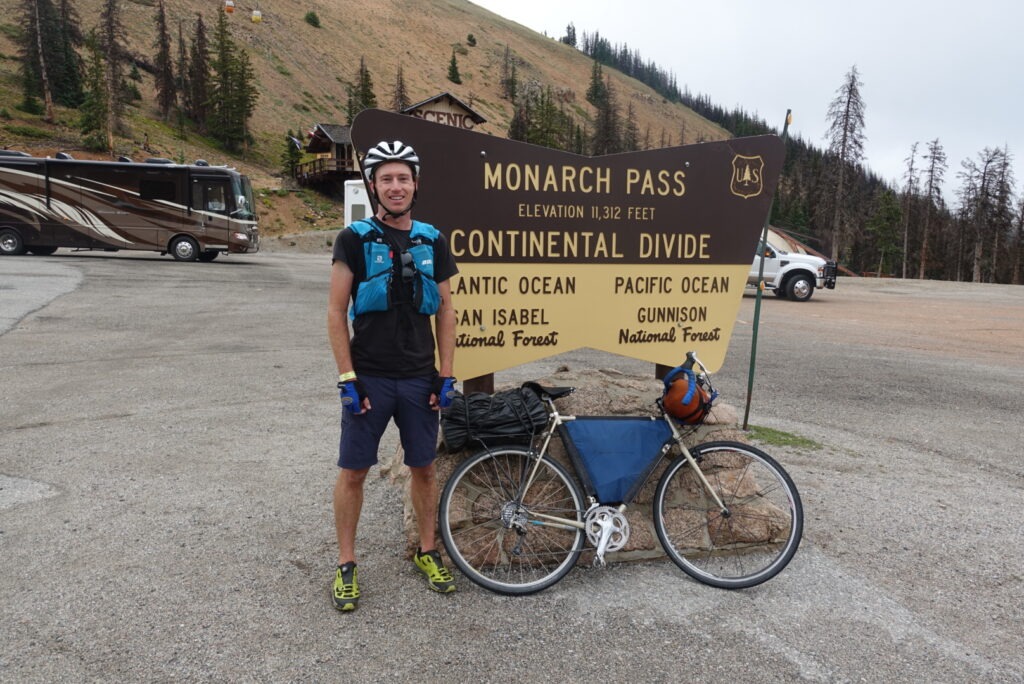 "If everyone takes action with the same amount of commitment that I did within their own means and circumstances, that can make a difference," said Jones. "The camp is how I can empower people to take action within their own means and circumstances."
If you're reading this and wondering how you can make a difference as a member of the POW community, Jones says that a quote from Bill McKibben, American environmentalist, author, and journalist, puts it best: "The best action an individual can take is to not be an individual." He encourages people to try whatever they can do within their means to take action.
"We can't change the world overnight, but you can have an impact on your own community," said Jones. "When you have people moving the needle on something small within your own community, then you see it making a difference. That'll give you motivation to keep scaling up your projects."
---
Want to be a part of Footprints?
Whether you're a competitive trail runner or someone who just likes to hit the trail for fun, you can be a part of the next Footprints Running Camp. All you need to do is apply!
If attending the camp isn't in the cards for you this summer or if you just want to help support the camp, you can also donate. Donations will help support the camp's operating functions.
---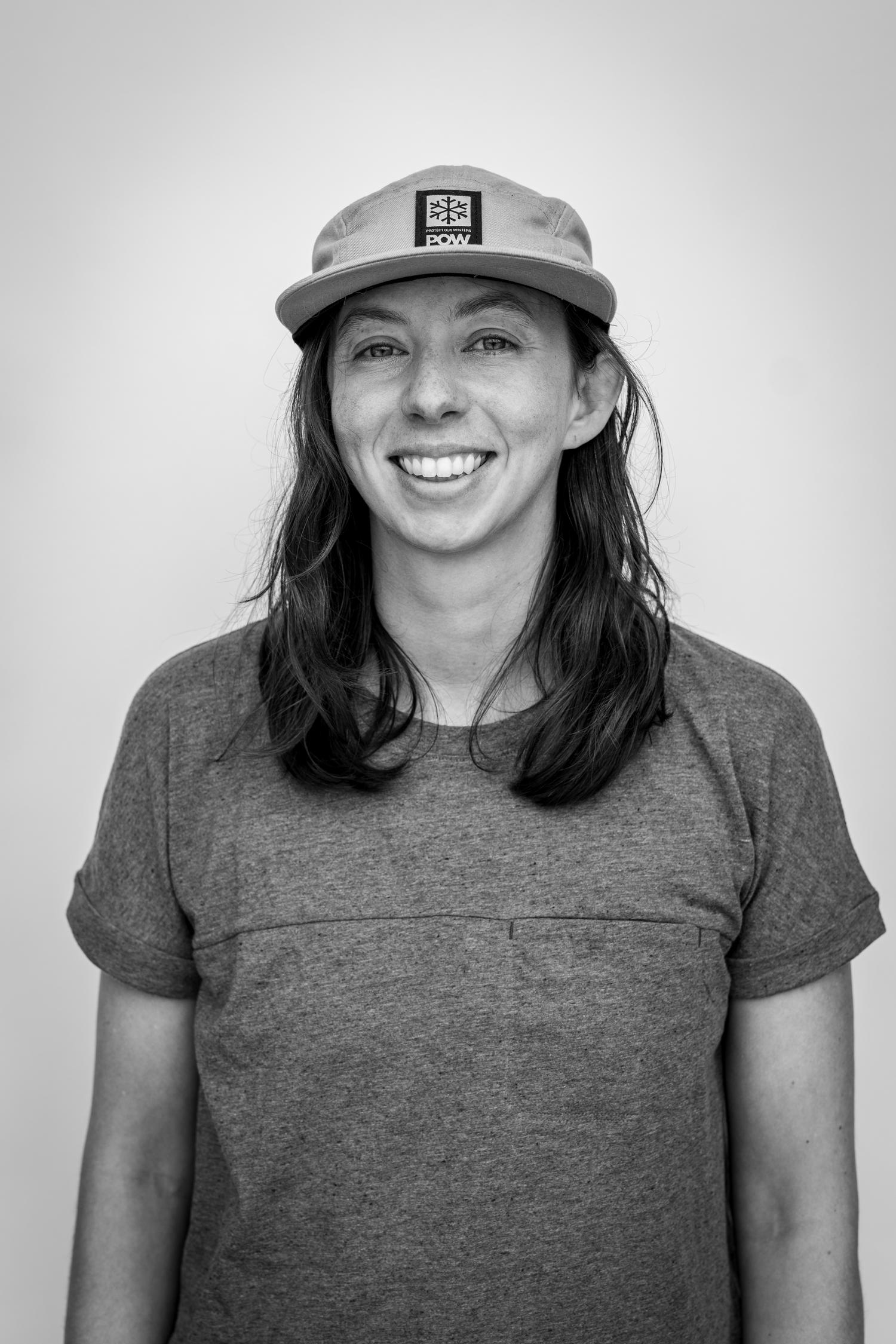 Author: Stacie Sullivan
Stacie always knew she wanted to pursue a career in the ski industry from a young age, having first clicked into skis at the age of 4 and writing her 8th grade career project on being a professional skier. While her dreams of becoming a professional athlete didn't quite pan out the way she planned at […]