Colt Whitley Is Dedicating His Ski Season to Climate Advocacy
After attending a college fair two years ago, Colt Whitley, a junior at Aspen High School, found an opportunity to turn something he loves into a service project that he felt was becoming increasingly important. Colt created Project Ski More, a challenge to ski as far as he could in a single season, tapping supporters to help him raise funds for Protect Our Winters.
This wasn't the first time that Whitley has put his skiing to work for a good cause. In 2016, he used his ski mileage to raise money for scholarships for his local Aspen Valley Ski and Snowboard Club. The goal was to help support kids who couldn't otherwise afford to ski. While the goal was honorable, it became clear to Whitley that his focus needed to evolve.
"I decided that more than just wanting the kids around me to be able to ski, I wanted kids all over the country and the world to be able to ski. But climate change is getting in the way of that being possible. I knew that I needed to change my focus, so with the same basic idea of kilometers skied for dollars, I would help raise money for POW," said Whitley.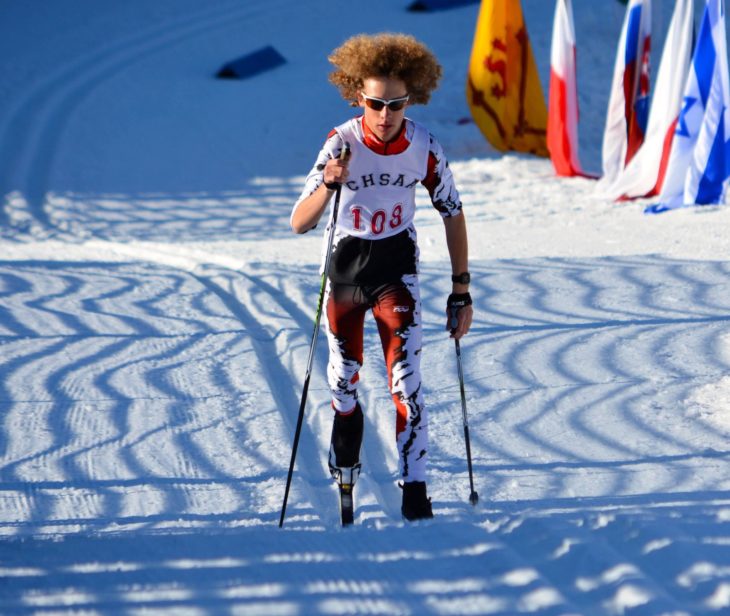 Whitley, races on the Aspen Valley High School's Nordic team, which is where he earns his kilometers for Project Ski More. Based on the season's snowfall, the project generally begins around Thanksgiving when the team travels to West Yellowstone in Montana. Whitley is adamant about only tracking the kilometers skied on actual snow. "Unfortunately," Whitley said, "that's not working very well this year."
"We came back from Yellowstone after Thanksgiving and we were still roller-skiing like we typically do in the summer. The fact that there wasn't even enough snow to train on is kind of crazy to me; it's really opening my eyes to how big of an issue climate change is." he said.
In support of his fundraising efforts, Whitley has also recruited five teammates this year, a group of Nordic and alpine ski racers, to help grow Project Ski More. He said that the goal of donating to POW made the project more accessible to his friends and teammates.
"I think it's interesting what Colt chooses to contribute to and I think it was so appropriate this year to contribute to POW because there's no snow. It's a pretty good wakeup call and embodies what the program is for," said Kate Odham, a sophomore on the AVSC Nordic ski team assisting with Project Ski More.
Similarly, Whitley's coupled perspective on climate and identity as a Nordic skier creates a platform for advocacy that POW also embodies. "Here is a high school student who has every excuse to defer. He is juggling college preparation, courses, and ski racing, yet he isn't taking a pass. Colt sees climate affecting the future of his passion and is stepping up to do his part" said Torrey Udall, development and operations manager for POW. "For us, Colt epitomizes the idea that everyone has a platform to leverage in the work on climate."
When Whitley has first started fundraising for the Aspen Valley Ski and Snowboard Club, he said he was astounded by the outpouring support from the community. Initially he set out to raise $3,000, but quickly exceeded that goal. He feels confident that the same community support can help raise meaningful funds for POW.
"It was just such an incredible moment when we hit $5,000 and to know that there's this huge community out there that also believes in what I believe in and wants to see people continue skiing," said Whitley.
This year, Project Ski More officially launched on January 11 from a website Whitley built himself. Together, he and his five recruited teammates will trade off writing blog posts, collecting sponsors and helping one another keep track of kilometers. Since the launch, Project Ski More has already raised more than $2,400.
"I want people to be able to experience this thing that I love so much and I devote my life to. With the current course we're headed on, future generations and kids today might not be able to experience it. It's important to help support an organization that is trying to help protect winter for all of us."
To donate to Project Ski More and keep up with Whitley and his teammates, visit https://www.projectskimore.com/