Caroline Gleich Visits the White House to Celebrate the 1 Year Anniversary of the Inflation Reduction Act
Back
You've probably seen photos and videos of professional skier and POW Athlete Alliance member, Caroline Gleich skiing Utah's dreamy powder, on the steps of Capitol Hill and at the White House advocating for a clean energy transition or campaigning at the local level for issues she cares deeply about. Caroline joined the POW Alliance in 2011, and has been there every step of the way—through all the different peaks and valleys—as we work toward a clean energy transition. Thanks to her commitment and the time she has put in over the years advocating with POW on Capitol Hill, she was invited to the White House last week to celebrate the one year anniversary of the Inflation Reduction Act (IRA), the largest climate package in the history of the United States.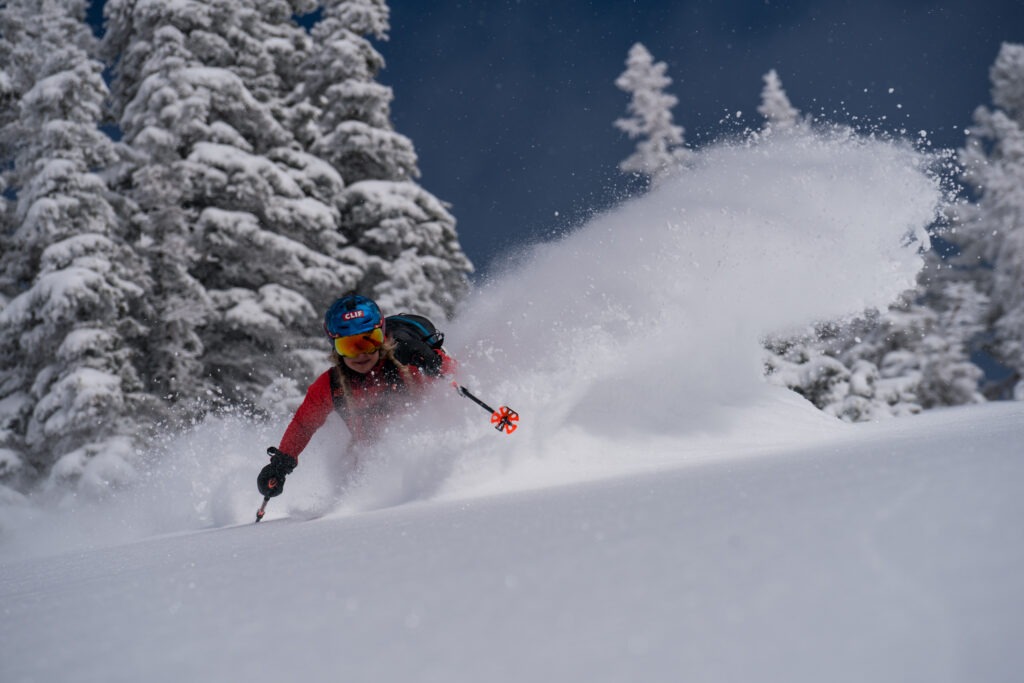 We caught up with Caroline to hear about her experience at the event, her take on the IRA and ways the Outdoor State can take advantage of all the great incentives that are included in the package.
POW: Last week we celebrated the one year anniversary of the IRA. Why do you think this legislation is important to the Outdoor State?
Caroline Gleich: The IRA is the biggest climate bill in the history of the United States. While there are always more things that we would have liked to see, at the end of the day, it's a huge investment in clean and renewable energy. It's absolutely essential legislation, not only to the Outdoor State, but for humanity to avoid the most damaging consequences of the climate crisis. Already, we're seeing huge impacts to our outdoors from wildfires, hurricanes and worsening weather. Also, the air quality is diminished by the pollution from burning fossil fuels.
With this bill and other measures, the U.S. is on track to have a 50% reduction in pollution by 2030. The science and the data shows us that we need this in order to avoid further warming. This legislation will help keep us closer to 1.7 degrees Celsius, rather than two degrees of warming, and every little bit of warming that we can prevent will help protect humanity.
POW: POW has been advocating for many of the policies that were included in the IRA. Can you give some background on the role you've played in supporting POW from Lobby Days to using your own personal platform to get the word out?
CG: This was my fourth time visiting the White House, and I've participated in 11 Lobby trips to D.C. My first Lobby trip with POW was in 2014 during the Obama administration where we met with the EPA and the White House to drum up support for the Clean Power Plan.
It's been like an ultra marathon for almost a decade with POW. We've been advocating for these things and working super hard to elect climate champions for many years, and we've had some really harsh defeats, but it's great to see a win with the IRA.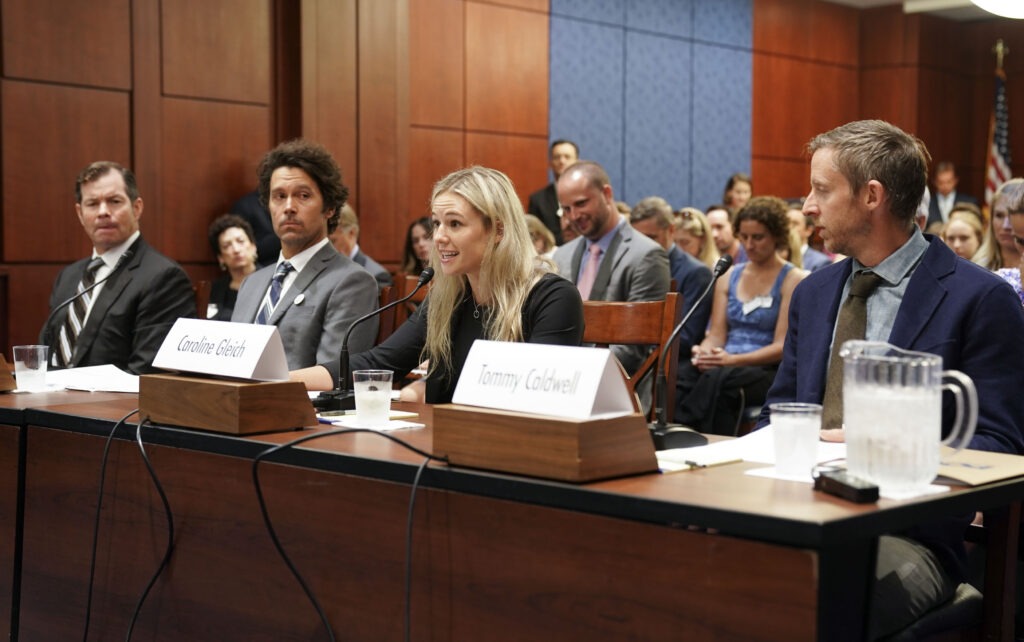 POW: What has been the most rewarding part or biggest takeaway from the years of lobbying that you've done, and then seeing this legislation get passed?
CG: What's really exciting and rewarding right now is seeing the rate at which we are electrifying and the rate at which society is reducing and eliminating its dependence on fossil fuels.
Just ten years ago, you never saw Electric Vehicles (EVs) and now you see them everywhere. Even within my own life, we have solar panels at my house, a heat pump and battery storage. We have a lot of ways now that we can live without our addiction to fossil fuels. For me, the most exciting thing is to see these things go from concept to real life and the ways that they improve our air quality and reduce pollution.
Those real life ways in which the policies, like the IRA, touch our lives and knowing that I played a small role with many other committed activists, that's the most rewarding part.
POW: You just got back from celebrating the one year anniversary of the IRA in Washington D.C. Can you give some background to what role you played while you were there and what meetings you attended?
CG: I was there last year for the first party celebrating the passage of the IRA. At that event, I got to meet President Biden and Vice President Kamala Harris, and a bunch of members of the White House staff. This year, I met with Ali Zaidi, the climate advisor for the White House. I also met with some other folks and activists that attended the one year anniversary celebration.
I think my favorite part about the event was that the White House invited a lot of people from different industries, whose lives are touched and shaped by the IRA. I met Kristal Hansley, the founder of We Solar, the first Black woman owned solar company in the US. I met Kayla Yatsko, who is a steam fitter apprentice, who helps to manufacture pipes that you use for geothermal and other applications. I also met a woman, Rachel Bouressa, a cattle farmer from Wisconsin, who practices rotational cattle grazing which helps keep carbon in the soil. All of those people really showed how clean energy can create jobs and bolster the economy. To meet all these other people whose lives have been touched and industries that have been bolstered by these policies we've advocated for was really cool.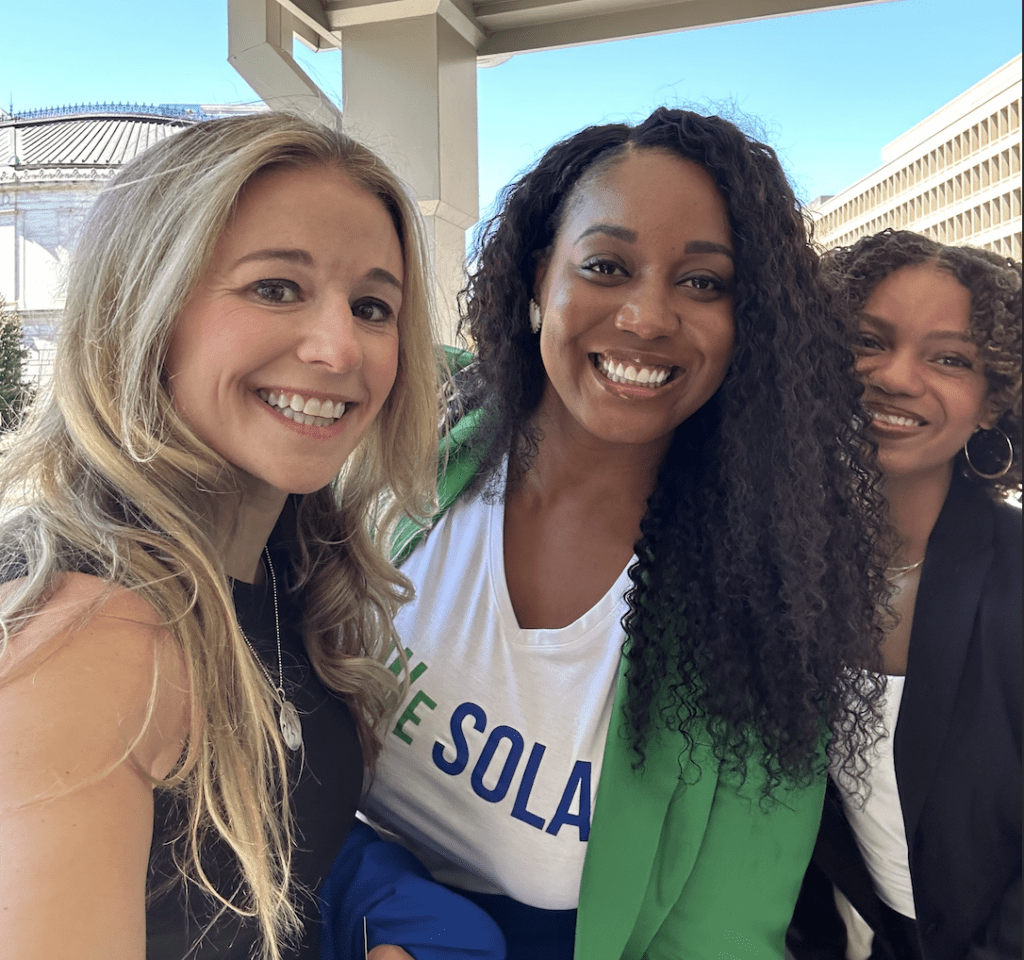 POW: What was the overall energy like at the event?
CG: In policy work, so often we are putting out fires literally and figuratively. We have a huge threat and we have to take action to prevent some treasured piece of land from some kind of development. Very rarely do we come together for a positive and proactive celebration, so it was really fun to have the White House bring us all together. So much work as a climate activist feels like doom and gloom, responding to one crisis after another. We can hold space for the grief and sadness while having moments of joy. But it's important to not miss those opportunities for joy, because joy will help keep our activism going.
POW: Were there any action items or next steps that came out of the event? Or was it more of a get-together to celebrate what we've accomplished thus far in the last year?
CG: One of the things that's really cool about the legislation is that it gives communities, states, companies and individuals tax incentives and rebates to lead themselves to decarbonization. What we've accomplished in year one is just the tip of the iceberg. We're just scratching the surface of what this legislation can do and it's giving investors and people confidence in the government's support of climate policy and clean energy policy. On an individual level, there's still a lot we need to do to educate consumers about the tax rebates and provisions that can help individuals.
There weren't super specific action items, but I think that it's nice to have gatherings like that with people in real life because advocacy work can be really draining and when it's time to go out and campaign sometimes you pull long hours and work your tail off. It can be really tiring in a thankless way because you don't often get to celebrate. It was very energizing to be in the room with other like-minded people and the event felt like a tailwind to help us get to the next step.
POW: I'm sure there are a lot of great ideas that come out of everyone just being there together, even if there isn't a formal meeting or an agenda.
CG: The event was good for relationship building in that sense. You just have to keep showing your face and talking about the issues.
I'm super grateful that I got invited and I would really encourage everybody to keep showing up and speaking out to their government and elected officials at the city, state and federal level because the government in the U.S. is designed to work for the people. That only works when we go and speak up, and so whatever it is you're trying to change, you have to keep showing up and having your voice heard.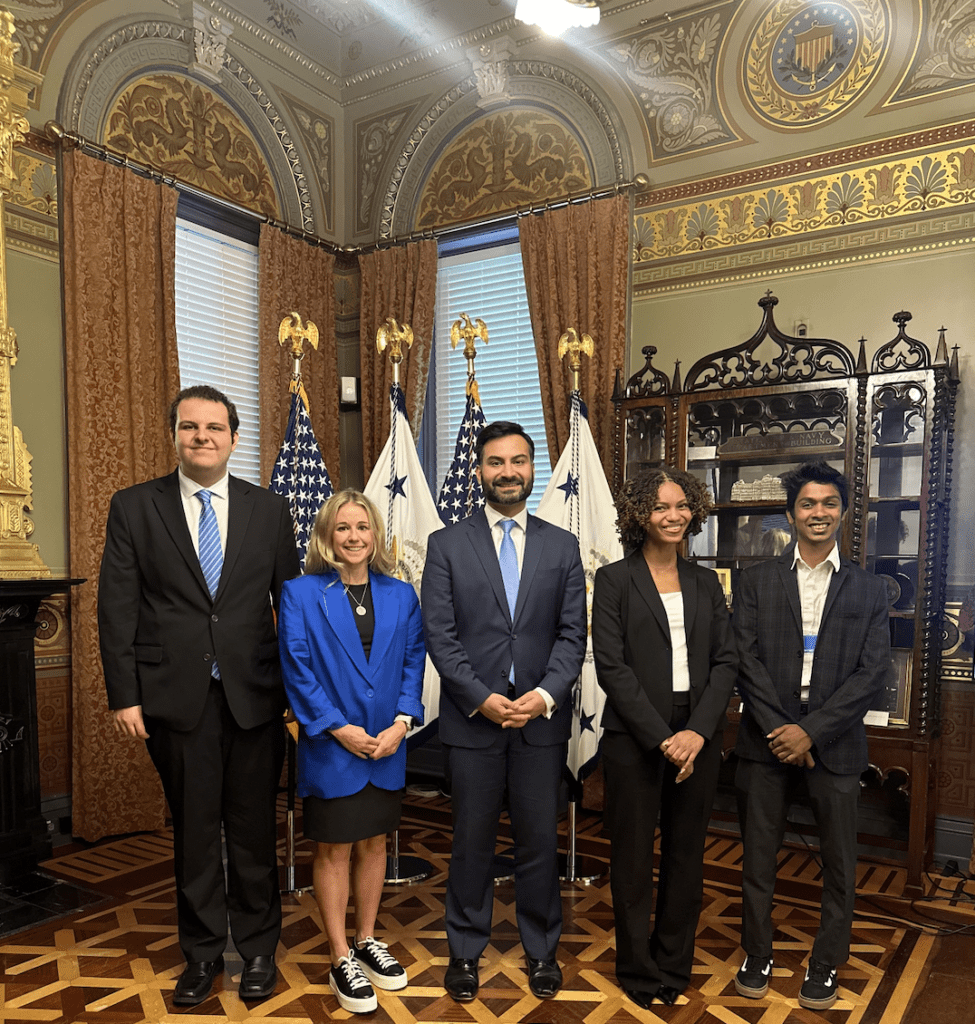 POW: What role can the Outdoor State play in continuing to support the implementation of the IRA and advocating for the clean energy transition?
CG: On the individual level, head on over to CleanEnergy.gov and check out all the different tax rebates. If you're in the market for a new car, you should look at an EV because there are tax credits for a new EV or plug-in hybrids. If your HVAC system needs upgrading there's huge rebates for that. Whether you want to do solar or battery storage, I'd highly encourage people to look at heat pumps because they're a huge part of decarbonizing homes. I read a crazy statistic that if 98% of U.S. households install heat pumps, it would be the equivalent pollution reduction of taking 32 million cars off the roads. Check out some of those things and start talking to your neighbors, your friends and your community because these great tax rebates will have a reverberating effect.
POW: For someone who may be reading this and want to use their voice to start talking about clean energy, but aren't feeling confident to do so, what words of encouragement would you give to that person?
CG: First, of course, join POW. Patagonia also has a great tool on their website called Patagonia Action Works that will connect you with a local grassroots environmental nonprofit so that you can start learning more about these issues. I've done some of my lobbying and advocacy work with POW, but I've also done a lot of it at the local level with environmental grassroots nonprofits. I think it's important to do both and advocate at your city and county level too. I definitely don't discount that some of the biggest gains that I've made as an activist were at tiny city council meetings. That work is extremely gratifying because you can see the payoff much more easily and quickly.
The other major thing is that it can be kind of confusing sometimes to keep tabs on what's happening in government. I subscribe to my local newspaper and I have the app on my phone so I'm always reading what's happening with Utah policy and environmental policy. Over the years, that information accumulates and you become more knowledgeable about the issues so it becomes much easier to speak up. But if you're just getting into the work, having the guidance and leadership of a nonprofit group with you is helpful. I still rely heavily on all the nonprofit partners that I work with, POW included, to help guide my policy and my activism. Don't be afraid to ask for help and build a community around it.
---
Are you looking for ways to get involved in climate advocacy and resources on how to speak with your community and lawmakers? POW offers a free educational series, Finding Common Ground: How to be a Climate Advocate. The series is taught by POW Alliance members who have been on the front lines of climate change and worked tirelessly on Capitol Hill advocating for the outdoors. You can start your own climate advocacy journey today by signing up for free!
---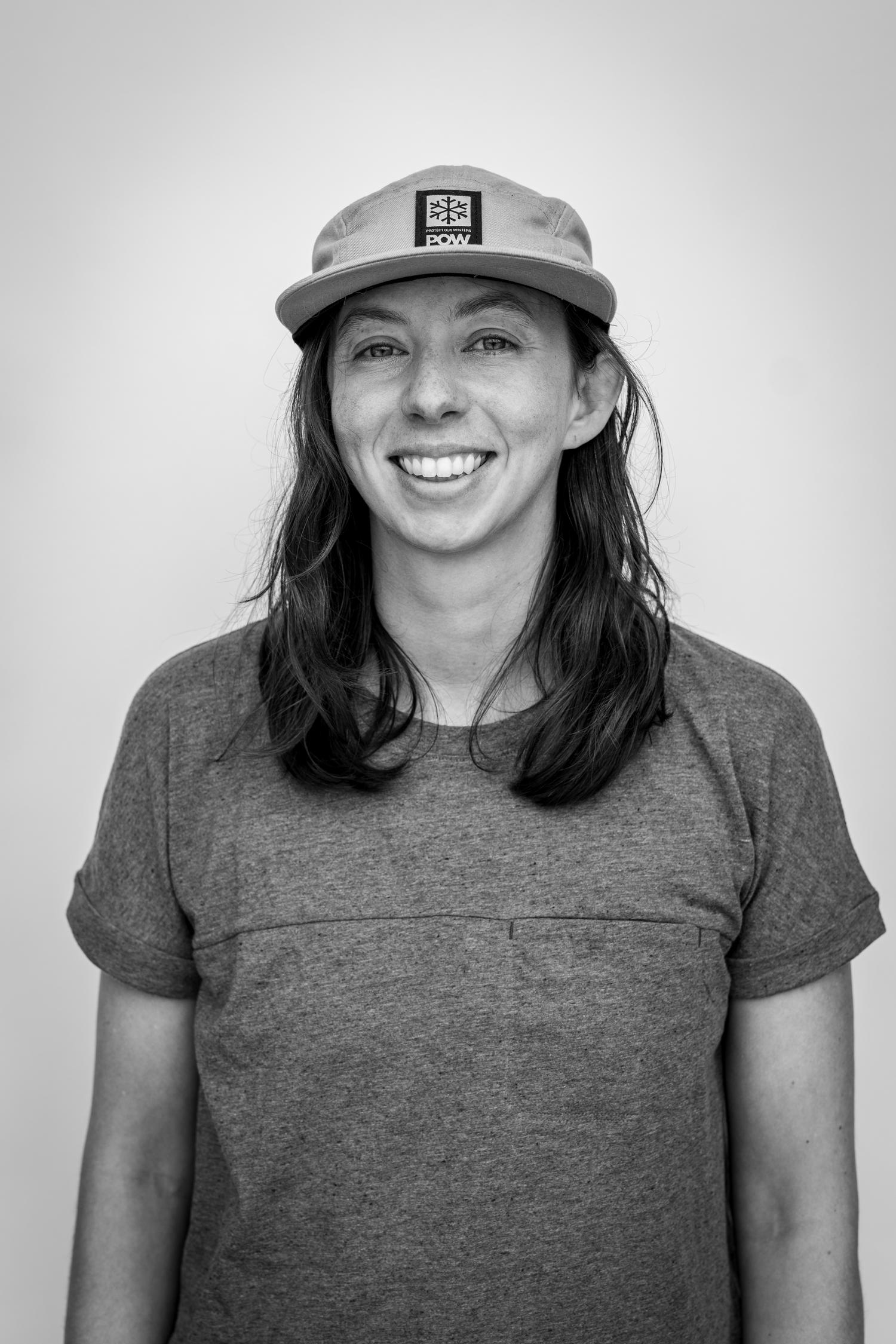 Author: Stacie Sullivan
Stacie always knew she wanted to pursue a career in the ski industry from a young age, having first clicked into skis at the age of 4 and writing her 8th grade career project on being a professional skier. While her dreams of becoming a professional athlete didn't quite pan out the way she planned at […]