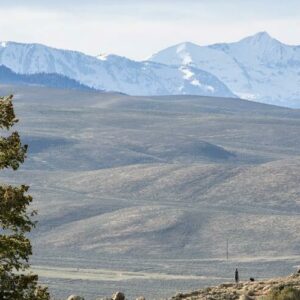 The Thompson Divide
Help Protect Our Public Lands
The Thompson Divide is home to some of Western Colorado's most breathtaking lands. It's home to 225,000 acres of public land between the White River and Gunnison National Forest that provides vast opportunities for skiing, hiking, biking, camping and most importantly a major watershed of the Colorado River. This land is in danger of oil and gas leasing and development from the fossil fuel industry, and it needs our help. 
The Biden administration has set a bold target to reduce greenhouse gas emissions by up to 52% by 2030. Reducing fossil fuel development on our public lands is climate action, and it brings us one step closer to achieving this goal. The protection of the Thompson Divide will help meet critical emissions reduction goals that the administration has set, which is a win-win for our climate and the Outdoor State! After all, if we want to reduce emissions to protect our winters, we shouldn't be drilling our public lands for more fossil fuels. The administration is considering taking new oil and gas development in Thompson Divide off the table, and we're stoked to see public lands be one step closer to permanent protection!
The local community surrounding the Thompson Divide has been fighting to protect this land from oil and gas extraction for over a decade, including through POW's advocacy for the CORE Act, which provides permanent protections for the Thompson Divide. POW is asking for your help as we work to protect this land for generations to come. Join us in submitting your comment to the Bureau of Land Management by January 13 so that we can take action on climate by protecting our public lands!