Breckenridge Votes to Go 100% Renewable
We are excited to report that on November 14, the Town Council in Breckenridge voted unanimously to power their entire community by 100% renewable energy sources by 2035.
Why are we stoked to see mountain communities like Aspen, Park City, and now Breckenridge take this step? The reality is that these places are on the front lines when it comes to experiencing detrimental environmental and economic impacts from climate change. From summer wildfires to shorter winters, when a town depends on tourism and outdoor recreation, its economy suffers in the face of climate change.
A big shout out goes to POW Riders Alliance pros Benji Farrow, Cody Cirillo, and Clare Gallagher for showing up to the Breckenridge Town Council meeting and speaking to Councilmembers about their support for the resolution.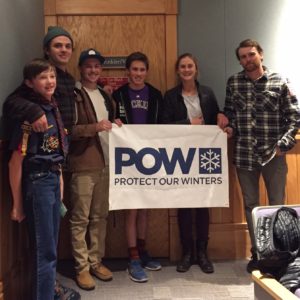 "This experience was so important to me because Breckenridge is my home; I grew up here," said pro skier Cody Cirillo. "I know the very people whose businesses suffer in low snowfall years: the ski shops, the restaurants, and the resort workers. That list even includes my mom, who has worked at the ski resort for the last 21 years. Snow is indeed our currency. I love this small mountain community that I call home, and if we can enact a change that could further protect our town's vitality, I'm all in. It was imperative that I stood up and supported Breckenridge voting to go 100% renewable. And, this vote has the potential to ignite other towns in the state to follow suit– it's powerful."
"Speaking at the Town Council meeting was an exhilarating experience. The crowd was very supportive and there was no opposition in the room. I realize not all meetings are like this, but to be a part of such a positive process towards addressing climate change was moving," said ultrarunner Clare Gallagher. "And," she notes, "it was cool to see local high school kids attend because they are fans of Benji and Cody! That in itself shows the importance of professional athletes showing up to speak out."
On Facebook, Councilmember Erin Gigliello echoed this sentiment, saying "So proud to work on a Council that came together to vote 7-0 on a resolution for 100% renewable energy by 2035. Also, it's so cool that in Breck, pro athletes come to Council meetings! Thank you to all the citizens and staff that helped make this possible!"
Voting to go '100% Renewable' transitions a community to cleaner energy sources and off of fossil fuels, which emit greenhouse gases and drive climate change. The vote pressures local utilities, in this case, Colorado's Xcel Energy, to identify and provide more renewable power. It's an incredible way for one community to make a big difference.
Breckenridge is the 49th municipality in the US to vote to go 100% Renewable, and joins Colorado towns Nederland, Pueblo, Boulder, and Aspen in adopting clean and renewable energy goals.
"Thank you to all the people from Breckenridge, Summit County and beyond who supported our efforts in speaking to the Town Council," said pro snowboarder Benji Farrow. "It makes me proud to live where I do. While it was a successful night, the journey does not end here. There is always more we can achieve!"