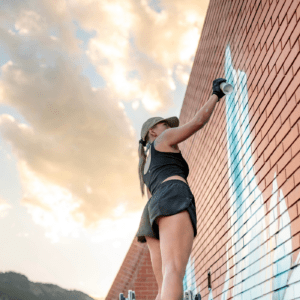 Kendall Kippley
Contemporary Painter, Muralist
Kendall Rose Kippley is a contemporary painter and muralist from Denver, Colorado. Her oversized paintings and murals depict abstract, dramatic icescapes. She uses cool, vibrant color palettes to represent melting, calving and shifting glaciers. She is deeply interested in the concept of the sublime in nature and found that capturing the movement of ice in her paintings has helped her distill these personal awe-inspiring moments.
She combines representational imagery with gestural brushstrokes, geometric shapes, and intentional color palettes to represent movement, create rhythm, and heighten the sensation of each piece. The formula for developing her work comes from her desire to replicate a natural process while infusing it with human emotion and intuition. Each painting is an experiment in recreating nature while exposing her own.
Kendall creates these landscapes to linger in the moments that make her feel the most alive. It is in those temporary states of uncertainty that she finds beauty. As she continues to excavate her identity through this work, she hopes to emphasize how intertwined we are with the forces that drive our planet and create awareness in order to protect them.
Kendall has been creating these works since her graduation from Colorado State University in 2016, where she received her Bachelor of Fine Art in Painting and studied Natural resources with an emphasis in Geology. Her work has been displayed in several galleries in Colorado. Her body of work surrounding phenomena is featured in Colorado State University's Journal of Undergraduate Research, and her murals permanently adorn buildings in Denver and Boulder, and expands to surrounding states.
Kendall Kippley's Projects