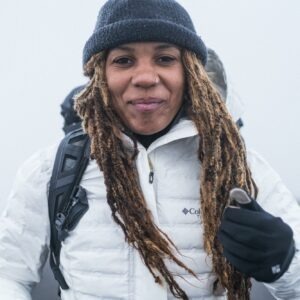 Faith E. Briggs
Filmmaker
Faith Briggs is a creative producer, environmental justice advocate, documentary filmmaker and runner passionate about sharing contemporary stories from diverse communities. A self-described "professional nerd," her studies at Yale University and the New York University Arthur L. Carter Journalism Institute focused on representation in media and inspiring global citizenship.
Faith has spent the past few years working at Oregon-based non-profit organizations with a focus on connecting youth from underserved communities with the outdoors. The former program director at Soul River Inc., she now serves as the development director of the Global Works Community Fund.
In 2018 she produced Brotherhood of Skiing working with Wild Confluence Media and The Wilder Studio for REI. In 2020 she was the subject and producer of This Land, a short documentary where she ran 150 miles through threatened National Monuments delving into the complicated history of inequity in conservation. Both behind and in front of the camera, she works with brands, non-profit organizations, institutions and individual creatives to create media representative of the world we live in and the better one we are working together to create.