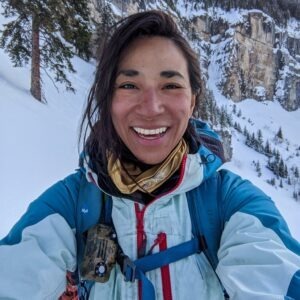 Dani Reyes-Acosta
Mountaineer
Award-winning filmmaker, athlete, and writer Dani Reyes-Acosta inspires individual action and collective communion through stories of reciprocity in the outdoors—rewriting the story of how we build community along the way.
Her goal is to find the limits of her possible, searching out the peaks and valleys that tell the story of Mother Earth's most impacted people and places. She believes that in community with ourselves and the world at large, we can reEarth the power within—to form a better future for us all.
Her perspective has been featured in the New York Times, the Washington Post, Climbing Magazine, and in five anthologies, on topics ranging from splitboard mountaineering and mountain running to rural living, community-building, and climate solutions.
An emerging filmmaker, her first film, OUTLIER: Trust, premiered at Banff Mountain Film Festival in 2022, with nine other festival selections as of June 2023. Honored by Protect Our Winters as "Alliance Member of the Year" for her community advocacy, she is an Explore Fund Council Member for The North Face, charting a path forward for a new generation of explorers.
Whether chasing a story or harvesting apples from her orchard of heritage trees, Dani's finds inspiration in her favorite places, the Andes, Sierra Nevada, and San Juan mountains.
She speaks Spanish fluently, French somewhat passably, and can make a mean taco plate from scratch, likely with food from her farm in Southwest Colorado.
Location
Colorado, USA
"As a multilingual, multiracial American who loves the mountains, climate change doesn't just pose a huge risk to the pursuit of my private passions as a splitboarder and climber. It also threatens the lives and livelihoods of my communities. Coming from Latina, Asian, and Pacific Islander roots, my communities have historically suffered disproportionately from the environmental impact of decisions made by those who don't recognize the privilege they yield. We are all on this planet together: it's time we started acting like it."