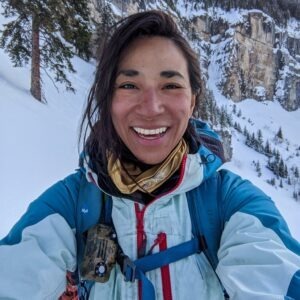 Dani Reyes-Acosta
Mountaineer
Born in Santa Monica, California, Dani Reyes-Acosta spent the first fifteen years of her life surfing and swimming in the rip currents off the coast of Los Angeles. Only her family's annual trips to the Sierra Nevada showed her that the mountains could help her find the limits of what was possible for her.
Years later, after departing a corporate job in Oregon, she refound her love of the mountains during an extended expedition to South America in 2014. Then, she rebuilt her life, with mountains (and all their lessons) at its center.
Honing her craft in the mountains through split boarding, trad climbing, and peak bagging missions on trips through Andorra, Argentina, Canada, Chile, Mexico, Peru and the USA, she constantly taps into the work ethic (and boundless energy) of her parents, first and fifth-generation lovers of the land who instilled in her a deep love of community.
Adopting a nomadic lifestyle to support her big mountain dreams, Dani believes that minimalism and community are the keys to wellness and connection. In addition to being a storyteller, Dani is also a strategist: she works as a brand and marketing consultant, speaker, writer and educator to connect people to themselves, the great outdoors, and their wildest dreams they never thought possible.
Advocacy links
Location
Colorado, USA
"As a multilingual, multiracial American who loves the mountains, climate change doesn't just pose a huge risk to the pursuit of my private passions as a splitboarder and climber. It also threatens the lives and livelihoods of my communities. Coming from Latina, Asian, and Pacific Islander roots, my communities have historically suffered disproportionately from the environmental impact of decisions made by those who don't recognize the privilege they yield. We are all on this planet together: it's time we started acting like it."