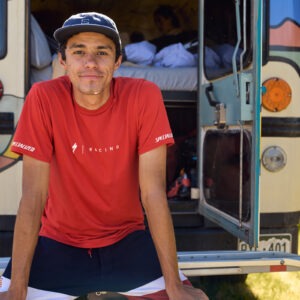 Christopher Blevins
Christopher Blevins grew up in Durango, Colorado, a tight-knit mountain community with backyard playgrounds for all. At age 5, his dad placed him (literally) on a BMX start gate which began his racing career. Blevins raced BMX at a national level for a decade, winning multiple national age-group titles. In his teenage years, he started to gravitate to the road and mountain bike.
Fueled by the motto of his youth riding team, "never forget the feeling", Blevins began to discover what the bike can provide beyond just racing, allowing him to build a community, connect to his home mountains and learn about himself. When Blevins graduated from high school, he headed to Cal Poly in San Luis Obispo, California and eventually graduated with a business degree focusing on social entrepreneurship. Throughout college, he was able to explore other interests alongside training for the Tokyo Olympics. This included poetry and music, failing at surfing and working with Outride and Silver Stallion, two nonprofits that seek to provide a cycling ecosystem to kids in underserved communities.
Blevins firmly believes in the power of a bike as a tool for positive social and environmental impact, and this outlook is what inspires him as an athlete.